To share messages of remembrance about a recently deceased sister please visit our Message of Remembrance page.
To make a donation in memory of one of our sisters, click HERE.
Are you looking for a Sister who served in your school, hospital, parish or other ministry?
Please complete our Find A Sister form.
Sr. Regina Drost (1915-2011)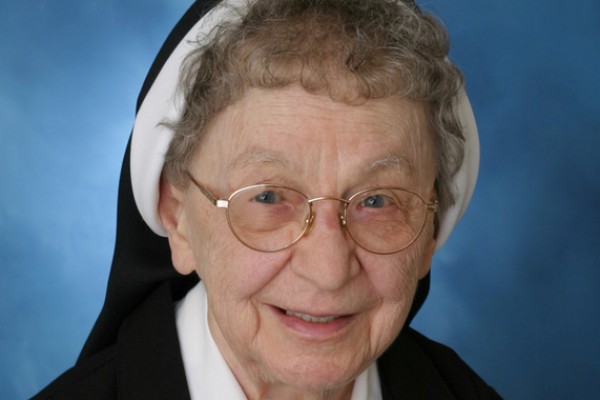 Sr. M. Regina (Sophia) Drost, a member of the Sisters of the Holy Family of Nazareth for 78 years, died March 26 at age 95. A native of Trafford, PA, her parents died when she was young; she remembered coming with her sister to live at Holy Family Institute when she was about eight years old. The sisters soon discovered that young "Zosia" could act, giving her many leading roles in programs and plays at the Institute and local parishes. She was, she said, the "Shirley Temple" of her day. She was happy at HFI, but occasionally found herself "on the carpet" due to her lively nature.
When the Provincialate at Pittsburgh was complete, Sophia and five other girls at the Institute came there to attend Mt. Nazareth Academy. She became a postulant on Christmas Eve her senior year. She earned bachelor's and master's degrees in education from Duquesne University in Pittsburgh. Sr. Regina taught the elementary grades for 62 years in Michigan, Ohio and Pennsylvania. At some parishes, she also served as organist. In the Diocese of Pittsburgh, Sr. Regina taught at St. Hyacinth, Sts. Cyril and Methodius, Holy Family, St. Joan of Arc Schools and Mt. Nazareth Learning Center. She also had two assignments totaling 16 years at St. Malachy School near Pittsburgh; she told friends and family that she liked the parish, the people and the children. Sr. Regina's classrooms were always lively and colorful; while not an artist, she had a talent for decorating and arranging flowers, a talent she utilized in her later retirement. Her many journals and notebooks were filled with poems, excerpts from Scripture, her own watercolors, prayers and reflections.
In 1990, she came to Mt. Nazareth Learning Center, teaching kindergarten. Her gifts as a teacher were evident. Several years later, then 82, Sr. Regina was a consultant and volunteer at the center. She retired to Holy Family Manor in 2005. Always engaged with the world, one of her friends noted that in her last days, "she might not have known the date, but she never forgot that Obama was president!"