To share messages of remembrance about a recently deceased sister please visit our Message of Remembrance page.
To make a donation in memory of one of our sisters, click HERE.
Are you looking for a Sister who served in your school, hospital, parish or other ministry?
Please complete our Find A Sister form.
Sr. Dolorosa Hessler (1943-2011)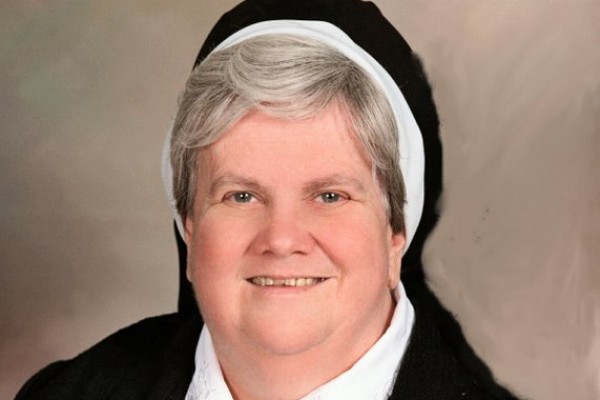 Sr. M. Dolorosa (Ann Marie) Hessler, 67, died at Mount Nazareth in Philadelphia in the 49th year of her religious life. A beautiful child known for her lovely smile, she was friendly and outgoing, growing up with three brothers in a family that encouraged her to get involved in everything. Ann Marie was special in another way: she was born with spina bifida; it was a challenge that never stopped her from giving her best.
She attended St. Eleanor and Visitation BVM parish schools, and Bishop Kendrick High School where she met sisters of many orders. A seed of a vocation to religious life was planted. Eager to be involved in parish life, she worked at the Visitation parish office and did odd jobs for the Sisters of the Holy Family (CSFN) who taught at the school. In her writings, Ann says it was the example of the sisters and how they treated each other and the parish families with love and respect that drew her to the CSFNs. She entered the congregation in 1962 and became a novice in 1963, receiving the name of the Blessed Virgin and her own mother - Dolorosa. She pronounced final vows in 1970.
For 25 years, Sr. Dolorosa taught elementary school at Nazareth Academy Grade School, Philadelphia; Queen of Peace, Ardsley; St. Katherine of Siena, St. Hedwig and St. John Cantius, all in Philadelphia, and St. Kunegunda in Scranton. She loved children, and they thrived in response to her nurturing ways. She retired from teaching and moved to Mt. Nazareth when she realized she could no longer meet the demands of this active ministry. There, her creativity was on display in her garden, in her creation of decorative wreaths, pillows and other novelties. She loved games, nature, gardening, and sharing with others. She loved sports, especially the Phillies. She also enjoyed visiting the retired sisters on the nursing floor of Mt. Nazareth; she was known to play games and lose "on purpose" for the enjoyment of the sisters.
Quite unexpectedly, after a blood transfusion, Sr. Dolorosa became unconscious, requiring immediate hospitalization. She never fully recovered, and returned to hospice at Mt. Nazareth /Nazareth Hospital, where she died after many visits by the sisters, her brother, nephews and friends.