To share messages of remembrance about a recently deceased sister please visit our Message of Remembrance page.
To make a donation in memory of one of our sisters, click HERE.
Are you looking for a Sister who served in your school, hospital, parish or other ministry?
Please complete our Find A Sister form.
Sr. Gertrude Klebba (1926-2011)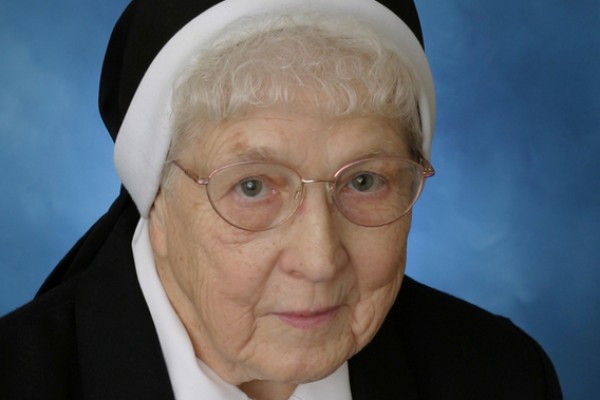 Sister M. Gertrude (Rosaline) Klebba, a member of the Sisters of the Holy Family of Nazareth for 66 years, died May 7 at age 83. A Detroit native, Rosaline became a postulant at the start of her senior year of high school at Mt. Nazareth in Pittsburgh. She earned a BS in education from St. John College in Cleveland.
Sr. Gertrude served for 54 years in Michigan, Ohio and Pennsylvania as teacher, principal and convent superior. In later years, she was a child caregiver and parish minister. From 1982-86, she was assistant provincial superior for the CSFNs in England, and local superior of the convent in Pitsford. Her last teaching assignment was at Holy Family Learning Center in Lakewood, OH. Next, she served as provincial superior for the then St. Joseph Province in Pittsburgh. After completing two terms, she ministered at Mt. Nazareth Learning Center, where she was a substitute teacher, supervisor of housekeeping and volunteer. From 2007-2009, she served as a companion to sister in Detroit, returning to Pittsburgh after the death of that sister. Earlier assignments in the Diocese of Pittsburgh included Immaculate Heart of Mary, St. Philomena, Holy Family Institute, Sts. Cyril and Methodius, St. Joan of Arc and St. Malachy. Throughout the years, Sr. Gertrude was known as a good traveling companion, always ready for a good laugh, gracious to all.
Sr. Gertrude had planned to move to Holy Family Manor the first week of May; while there to fill out forms on April 25, she became ill and went to the hospital, where tests revealed an aneurism. She returned to the Manor on May 5, her intended move-in date, and died two days later. Her wake drew family and friends from Michigan and Pennsylvania.