To share messages of remembrance about a recently deceased sister please visit our Message of Remembrance page.
To make a donation in memory of one of our sisters, click HERE.
Are you looking for a Sister who served in your school, hospital, parish or other ministry?
Please complete our Find A Sister form.
Sr. Medarda Synakowska (1914-2011)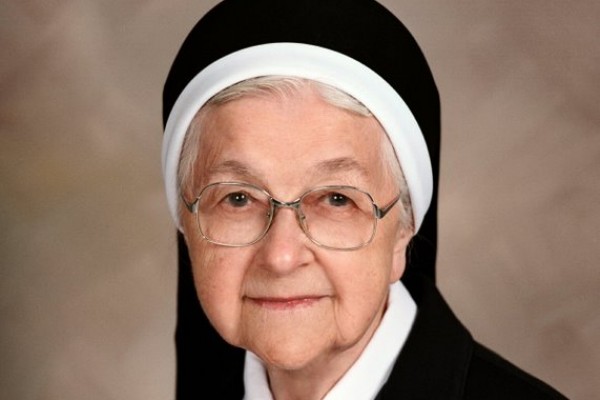 Sr. M. Medarda (Monica) Synakowska, a former Superior General of the Sisters of the Holy Family of Nazareth, died at age 97 at Mount Nazareth Convent, Philadelphia, in the 82nd year of her religious life. Monica Mary Medarda grew up in a household teeming with five brothers and numerous step-brothers from her widowed father's first marriage. She was the first of three girls in the large Synakowski family in Utica, NY. Any tendencies towards tomboyish manners were mitigated by the attention of her maternal grandmother, who also encouraged Monica Mary's devotion to the Blessed Mother.
With her siblings, Monica Mary attended Holy Trinity School in Utica; she attended Nazareth Academy, Philadelphia, for her secondary education. Sr. Medarda professed her perpetual vows in 1938 in Torresdale, PA. She held a BA from Catholic University of America and earned an MSSW from Fordham University in New York.
Sr. Medarda had a rich and varied ministerial career, spending her first 10 years teaching in New York at Sts. Cyril & Methodius School in Brooklyn and St. Peter Claver School in Jamaica. From 1947—58, she served as a social worker at Little Flower House of Providence in Wading River, NY. After a year as local superior for the Nazareth Hospital Convent, Philadelphia, Sr. Medarda was appointed provincial superior of the then Immaculate Conception Province, serving for 12 years. In 1971, Sr. Medarda was elected to the first of two six-year terms as general superior of the congregation, serving the worldwide congregation of 2,000 sisters from the Generalate in Rome. During her term, the Association of the Holy Family was established in each province, and the first Nazareth convent in the Philippines was opened in 1982 in Metro Manila.
Returning to Philadelphia in 1983 after 24 years in provincial and congregational leadership, Sr. Medarda enjoyed a sabbatical at Mt. Nazareth, and then served for nine years as local superior to the sisters at Holy Family University, Philadelphia. "Semi-retired," she served as a records assistant in the University's Financial Aid Office from 1993-2009. Throughout these decades of ministry, Sr. Medarda was known for her deep prayer life and her devotion to the Blessed Mother. In 2009, in declining health, she transferred to Mt. Nazareth. She died quietly after morning mass on June 17, in her room with two sisters present.