To share messages of remembrance about a recently deceased sister please visit our Message of Remembrance page.
To make a donation in memory of one of our sisters, click HERE.
Are you looking for a Sister who served in your school, hospital, parish or other ministry?
Please complete our Find A Sister form.
Sr. Valentine Sulewska (1921-2011)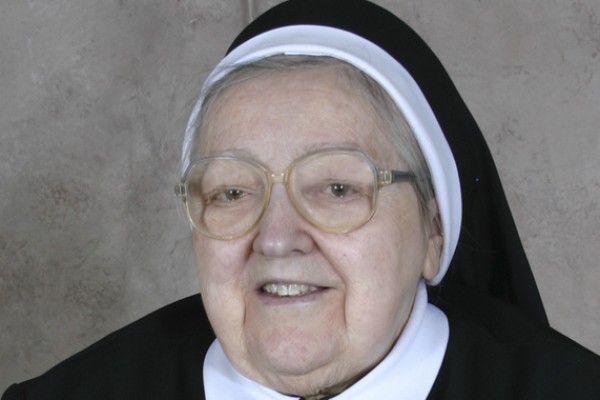 One of 11 children, Anna Sulewska grew up in the Greenpoint section of Brooklyn, NY, attending St. Stanislaus Kostka School where the Sisters of the Holy Family of Nazareth taught. Two of Anna's siblings died in childhood; her mother Sophie died shortly after the birth of her 11th child. Mary, the oldest daughter, left school to help her father raise the eight remaining children.
Anna left home to attend Nazareth Academy in Philadelphia, PA; she joined the CSFNs upon graduating from high school in 1937. When she entered the novitiate in Torresdale, PA, she received the religious name 'Sr. Mary Valentine,' and professed her perpetual vows in 1946. Sr. Valentine earned a BA from Manhattan College in Brooklyn, NY, and a master's degree from Marywood College in Scranton, PA. For her degree in library science, Sr. Valentine wrote her master's thesis on "Holy Family College Library - The First Decade." Sr. Valentine was certified to teach in elementary and secondary schools in several states; she also held certifications in elementary school administration.
A schoolteacher for 56 years, Sr. Valentine is remembered as a gifted, caring educator. She taught in Connecticut, Massachusetts, New Jersey, New York and Pennsylvania. She also served as principal and local superior at the parish schools/convents in Lincoln Park, NJ, and Derby, CT. Sr. Valentine was always ready and willing to go where she was needed - even in the middle of a school year when she was sent to Rome as part of a CSFN commission collating studies of the congregation's constitution, "The Covenant of Love."
Known for her skills and sense of professionalism, Sr. Valentine also enjoyed a good laugh and, reports say, she was not above getting into mischief when in the novitiate! She had a beautiful voice and loved to sing and pray in Polish. She enjoyed trying new things, including one adventure that involved a fellow Elderhostel participant weaving through New York traffic with Sr. Valentine in her wheelchair! Some of her favorite moments involved caring for Ginger, the convent dog, and their walks in the small town of Ansonia, CT, where they made many friends. She was known for attentive listening and her ability to live in the moment, not worrying about what might come tomorrow.