To share messages of remembrance about a recently deceased sister please visit our Message of Remembrance page.
To make a donation in memory of one of our sisters, click HERE.
Are you looking for a Sister who served in your school, hospital, parish or other ministry?
Please complete our Find A Sister form.
Sr. Alda Zajac (1923-2011)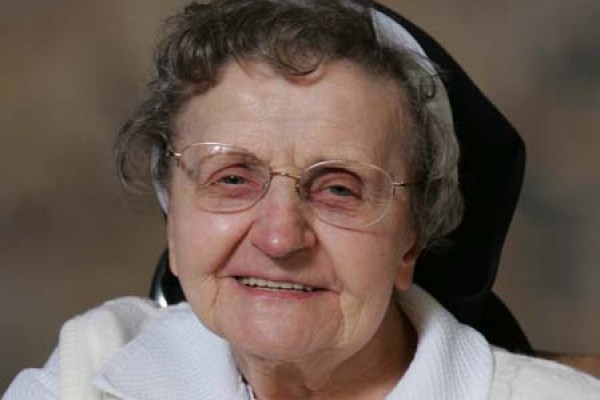 Sr. M. Alda (Marie) Zajac, 87, died Sept. 18 at Nazarethville, Des Plaines, IL, in the 68th year of her religious life.
Sr. Alda was one of seven children of Walter and Marcella Zajac, Polish immigrants who made their home in Chicago. After her one-year-old sister died of diphtheria, Marie was the lone girl with five doting brothers. Graduating from St. Ann High School in Chicago, young Marie worked as an office clerk at Montgomery Ward and as a nurse's aide at St. Mary of Nazareth Hospital before joining the sisters at age 18.
She earned a teaching certificate and taught at St. Hyacinth and Holy Trinity elementary schools in Chicago before starting her nurse's training in 1950 at St. Mary Hospital. She continued her education, becoming a certified Registered Nurse Anesthetist; for 10 years, she ministered to pre-surgical patients explaining the upcoming procedures to them.
In addition to service in the Chicago area, Sr. Alda shared her healing ministry with communities in Texas, New Mexico and North Dakota. For several years, she was the night nurse at Nazarethville, then CSFNs' retirement/nursing facility in Des Plaines, IL. In 1978, she returned home to care for her father for two years. Before she herself retired, Sr. Alda spent several years as the school nurse at St. Hedwig School, Chicago. Her own illness forced her to retire to Nazarethville in 1996.
Those who knew Sr. Alda well note that she drew strength from prayer, from quiet time spend with the Lord. These were the wellsprings of her life, enabling her to work hard and to develop a special place in her heart for the poor and those who work for the poor.
This passion was inspired by her brother, Fr. Jesse, who dedicated his life in ministry to the poor. Friends and family recall that Sr. Alda's joy in prayer was reflected in her sense of humor, keen wit and warm smile.