To share messages of remembrance about a recently deceased sister please visit our Message of Remembrance page.
To make a donation in memory of one of our sisters, click HERE.
Are you looking for a Sister who served in your school, hospital, parish or other ministry?
Please complete our Find A Sister form.
Sr. Mercedes Zachorowska (1916-2011)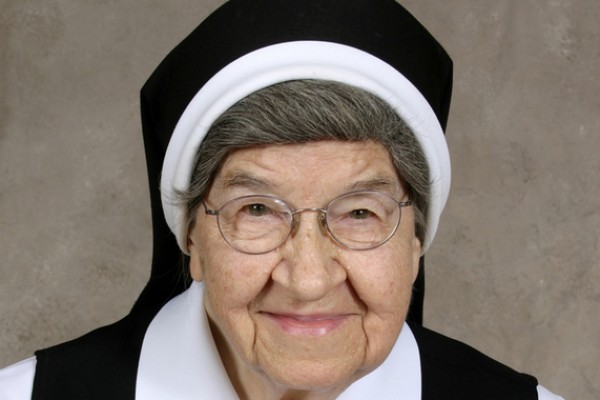 Known affectionately as a "gentle giant" who plunged into both daily living and her prayer life, Sr. Mercedes Zachorowska died just a few days shy of her 95th birthday. The former Casimira Zachorowski was the seventh of the eight children of Marion and Marianne Zachorowski of Brooklyn, NY. Graduating from Our Lady of Czestochowa Grammar School, Casimira graduated from Manual Training High School in Brooklyn. A year after graduation, Casimira joined the CSFNs in Torresdale, Philadelphia. She professed her perpetual vows on Aug. 17, 1938. Now Sr. Mary Mercedes, she earned a BS in elementary education from Villanova University near Philadelphia and her master's in special education from Columbia University, New York.
For more than 30 years, Sr. Mercedes ministered as an elementary school teacher and principal at schools in Pennsylvania, Connecticut and New York. At Little Flower Children's Services in Wading River, NY, Sr. Mercedes served as a teacher; as a cottage mother for more than 20 years, and later as a driver in the Little Flower motor pool. Sr. Mercedes also was local superior at convents in Derby, CT, and Glen Head, NY.
As family and Sisters gathered to remember Sr. Mercedes, it was apparent that she was a woman who embraced life, living it to the fullest up to her final days. Sr. Mercedes approached the Internet as she did all aspects of life - with gusto. She enjoyed her vast e-mail correspondence with family and friends. An avid baseball fan, she followed both the New York Mets and the Yankees. Many an autumn morning, she could be found in the community room in Monroe, CT, scanning the box scores for news of the Yankees during playoff season and the World Series. Known as someone who could "make things happen," Sr. Mercedes arranged for children at Little Flower to attend Mets games with a bonus - the chance to meet and mingle with the players. Perhaps in contrast to her intense baseball loyalties, Sr. Mercedes also loved fishing and often took boys from Little Flower with her, teaching them how to fish.
To some, she was a high-energy tornado; to others, a calming brook. To all who knew her, she was a memorable soul who touched and enriched their lives.