To share messages of remembrance about a recently deceased sister please visit our Message of Remembrance page.
To make a donation in memory of one of our sisters, click HERE.
Are you looking for a Sister who served in your school, hospital, parish or other ministry?
Please complete our Find A Sister form.
Sr. Lauretane Rupczewski (1923-2011)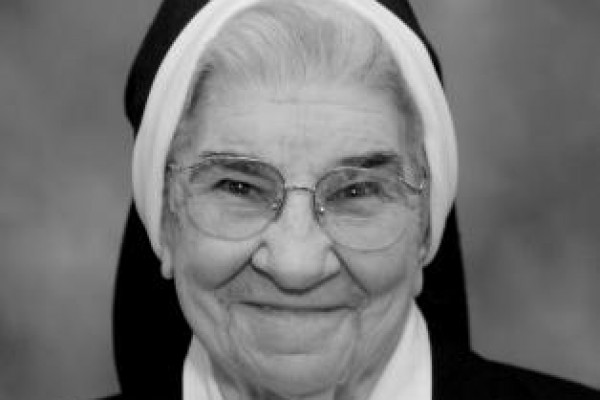 A native of Erie, PA, Sr. M. Lauretane Rupczewski was the third of seven children who attended St. Stanislaus Elementary School in their home town. She found the spirit of the Holy Family present in the sisters who taught her at St. Stanislaus. Upon graduation, Anna became an aspirant, attending Mt. Nazareth Academy in Pittsburgh. In later years, she recalled that she was "attracted by [the sisters'] gentleness, kindness and concern for the children and families of the parish."
Sr. Lauretane held a BS in elementary education from Villa Marie College in Erie; with additional courses and workshops, she qualified for permanent certification in every state where she ministered, teaching primary grades in schools in Michigan, Ohio, Pennsylvania and Alabama. For 11 years, in three separate assignments, she taught in and near the small town of Dillonvale, OH. During her 50 years in education ministry, she served as principal in two schools and as superior in three of the convents where she was assigned. Her last assignment: Holy Family Learning Center in Lakewood, OH, where she taught kindergarten and pre-school. In Pittsburgh, Sr. Lauretane taught at Holy Family Institute, Immaculate Heart of Mary, St. Malachy and St. Joan of Arc schools.
Before she retired, she worked as a parish minister at her home parish, St. Stanislaus in Erie. There she could be seen walking the neighborhood, visiting the sick and elderly in their homes, and veterans in the Soldiers & Sailors Home. On the occasion of her 50th jubilee, Sr. Lauretane recalled, "Nazareth gave me everything I needed to love God, his children, families and myself. During these years, I felt God's presence, care and love." Sr. Lauretane retired in 2000 to Holy Family Manor in Pittsburgh. Joseph, the last of her siblings, died just weeks before Sr. Lauretane.