To share messages of remembrance about a recently deceased sister please visit our Message of Remembrance page.
To make a donation in memory of one of our sisters, click HERE.
Are you looking for a Sister who served in your school, hospital, parish or other ministry?
Please complete our Find A Sister form.
Sr. Mary Paul Krasowski (1915-2011)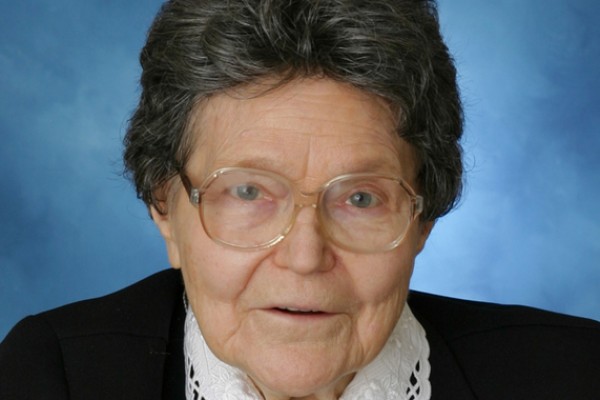 Sr. Mary Paul (Helen) Krasowski, a native of Cleveland, was the oldest of eight children; she helped care for her siblings and two cousins who joined the family when their mother died. She was baptized at St. Stanislaus Parish where the CSFNs taught; later the family moved to Our Lady of Czestochowa Parish, also staffed by the CSFNs. She attended John Adams High School for a time before transferring to Mt. Nazareth Academy in Pittsburgh. She spent her novitiate with the CSFNs in Albano, Italy, making temporary vows in Rome, then studying in Warsaw and working at the high school is Ostrzeszow. She returned to the States in 1938, teaching music and academic subjects and serving as principal in elementary and high schools in Pennsylvania, Ohio and Alabama. She held a BA from Mercyhurst College in Erie, PA; an MA in French from Notre Dame University, and an master's in elementary education/administration from Duquesne University.
In Pittsburgh, Sr. Mary Paul taught at Mt. Nazareth Academy, Holy Family Institute and Immaculate Heart of Mary; she served as principal at Holy Family School. Sr. Mary Paul also served as a planner and later an educational consultant for the Diocese of Pittsburgh, serving as a Supervisor of Schools for the diocese from 1971-1983, traveling by bus and on foot to inner city and outlying schools to consult with principals and teachers. Later, she taught education at the then Holy Family College in Philadelphia; she also served as a translator for the congregation at General Chapters in Rome. With her knowledge of Polish and Italian, when in Rome, she delighted in showing other delegates the sights.
Returning to the States, she taught at Cabrini High in Allen Park, MI, and then was stationed at St. Stanislaus, Cleveland. An accomplished musician who played piano, organ and cello, Sr. Mary Paul directed her St. Stanislaus students in a number of musical productions, including Gilbert & Sullivan's The Mikado. She enjoyed classical music, but in her later years, she preferred the songs of Frank Sinatra and other popular singers. She composed music and translated Polish music into English, including 'W Zlobeczku na Sianeczku…' by Bl. Mary of Jesus the Good Shepherd, CSFN foundress. Her work as translator for the Congregation began in earnest in 1994; she translated four books by Mother Foundress, including her autobiography, as well as excerpts and articles.