To share messages of remembrance about a recently deceased sister please visit our Message of Remembrance page.
To make a donation in memory of one of our sisters, click HERE.
Are you looking for a Sister who served in your school, hospital, parish or other ministry?
Please complete our Find A Sister form.
Sr. Joseph Plewa (1913-2012)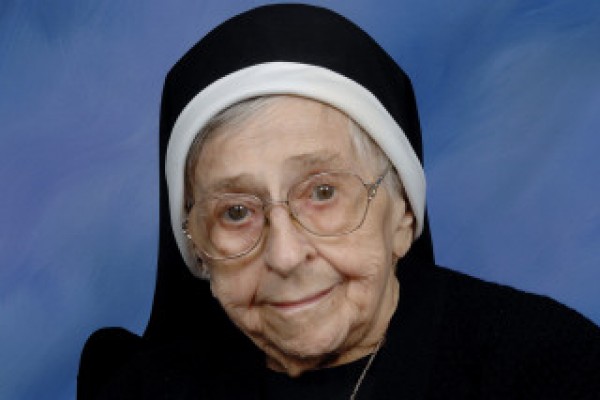 Sr. Joseph (Victoria Plewa) was the seventh of eight children, the first of the Plewa family to be born in the U.S. and baptized at Holy Trinity Church in Chicago. Young Victoria made her First Holy Communion on Ascension Thursday; concerned that she had a lay teacher rather than a religious sister, she recalled praying, "Jesus, please make me a sister so that there will be another sister to teach children."
A teacher through and through, Sr. Joseph began her career in 1933 at St. Stanislaus in Kankakee, IL. From 1937—1954, Sr. Joseph taught at St. Joseph Mission on 13th St. in Chicago. In her writings, she describes it as her 'Camelot.' At St. Joseph, "There was so much joy, laughter and satisfaction." From the mission, she was assigned to St. Margaret Mary in Neenah, WI. A former student recalls Sr. Joseph as a great teacher who really cared about her students. She had no trouble keeping rambunctious boys in line, even those who towered over this petite sister. She had her students working on research papers and introductory algebra (a rarity in elementary school in those days).
Sr. Joseph also taught at St. Ann, St. Hedwig, St. Michael (twice), St. Camillus (three times, including assignments as local superior and as principal), St. Josaphat, Immaculate Heart of Mary and St. Hyacinth, all in the Chicago archdiocese. She recalled, "Teaching at St. Michael High School for girls on South Shore Drive in Chicago was my other place that I cherished very much." There she taught social studies and was home room teacher for seniors.
Even after she retired, Sr. Joseph remained busy, cooking meals for her local community on free days for as long as she could. She was a good support to her local superiors, helping them stay organized and remain a step ahead. She was someone who "talked to Jesus all the time," as she did in her prayer on her Holy Communion day.