To share messages of remembrance about a recently deceased sister please visit our Message of Remembrance page.
To make a donation in memory of one of our sisters, click HERE.
Are you looking for a Sister who served in your school, hospital, parish or other ministry?
Please complete our Find A Sister form.
Sr. Leonille Balawajder (1916-2012)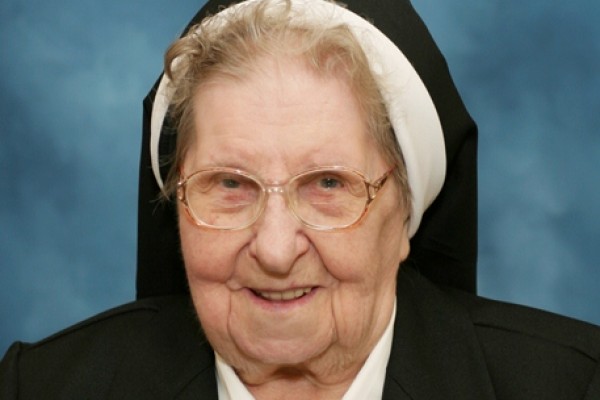 Sr. Leonille Balawajder, 95, died Jan. 29, 2012, in the 76th year of her religious life, at Holy Family Manor in Pittsburgh. A native of McKeesport, PA, she taught primary grades in Pennsylvania, Ohio and Michigan for 47 years.
Her father died in the flu epidemic of 1918; her mother remarried and died in 1923. Young Stephanie and her sister Florence were placed at Holy Family Institute by her father's sister. Only after high school did Stephanie discover that she had a half-sister, Leonora.
A sports fan who enjoyed reading and sewing, Sr. Leonille pointed to two CSFN sisters at Holy Family Institute, Emsworth, PA, as major influences on her decision to join the community. Sr. Onufria "took care of the girls" at HFI "and she also taught me to sew." Sr. Waclawa, another major influence, was one of Sr. Leonille's high school teachers.
After graduating from Mt. Nazareth Academy in Pittsburgh, Sr. Leonille earned a BSE from St. John College in Cleveland, OH. She ministered at St. Christopher School in Detroit, MI, for 25 years, retiring in 2006. Previously, she taught for more than two decades at St. Stanislaus Parish School in Cleveland; she also taught at Immaculate Heart of Mary School in Pittsburgh.
Her teaching ministry reinforced one of her longest friendships, Sr. Leonille reported in a story for her 75th jubilee in 2011. "I had – and still have – a very dear friend whose youngest son" was about to start first grade. "I took him into my classroom, and for that, she was very grateful, and after so many years, we still keep in touch."
Sr. Leonille loved teaching and enjoyed being "engaged with other people. I want to be an example of kindness and love. I'm happy and grateful" for all God provides through our community, she wrote in her jubilee year.