To share messages of remembrance about a recently deceased sister please visit our Message of Remembrance page.
To make a donation in memory of one of our sisters, click HERE.
Are you looking for a Sister who served in your school, hospital, parish or other ministry?
Please complete our Find A Sister form.
Sr. Antonia Klausner (1918-2012)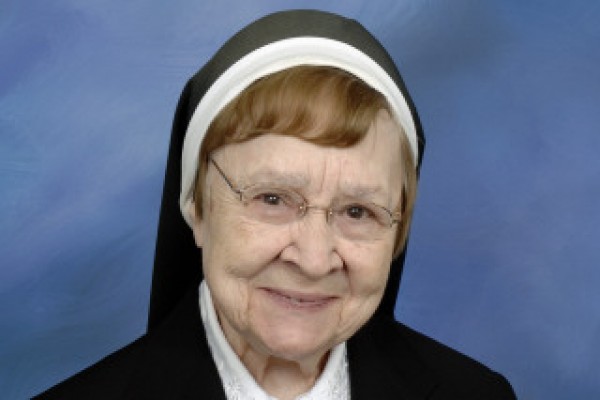 Sr. Antonia Klausner spent 77 of her 93-plus years as a member of the Sisters of the Holy Family of Nazareth (CSFN), and 68 of those years in health-care ministry. One of seven children of Felix and Theresa Klausner, Wilma attended Holy Rosary Slovak Elementary School, where she was taught by the CSFNs. Her parents had emigrated to the U.S.: her mother from Czechoslovakia and her father from Israel. Throughout her life, Sr. Antonia was proud of this heritage. She attended Holy Family Academy in Chicago, joining the community in 1935.
In 1938, Sr. Antonia began her nursing education at St. Mary of Nazareth Hospital in Chicago. Upon earning her RN in 1942, she ministered at Bethania Hospital in Wichita Falls, TX. In 1944, she returned to Mary's, serving as a pediatric nurse and continuing her education, earning a BS in nursing education De Paul University and a master's in nursing education from the Catholic University of America. At St. Mary's, Sr. Antonia served as a nurse, nursing supervisor, member of the faculty of the nursing schoo, and most recently, in administration. She served as director of the School of Nursing from 1965 until it closed in 1986. More than 1,300 nursing students graduated during her term.
During that time, she also was a surveyor for the National League of Nursing for Diploma Programs. Since 1986, Sr. Antonia served as Coordinator, Standards/Education, monitoring compliance with accrediting and regulatory standards and helping prepare the hospital center for accreditation reviews. With the 2001 merger of St. Mary's and St. Elizabeth hospitals, Sr. Antonia served as director of Education Standards, a position she held until her death.
Throughout her life, Sr. Antonia viewed her ministry as an integral part of her life in Nazareth. Her strength to carry out the healing ministry of Jesus was rooted in prayer — the communal prayer of the community, as well as personal time before the Blessed Sacrament in the early morning hours each day. She loved life, her vocation, her ministry and her family with a passion evident to all who encountered her. On the occasion of her 75th jubilee, Sr. Antonia said she had "developed an intense caring spirit and compassionate love…for any sister in need. I lived out the charism of my community by ministering in the manner of Florence Nightingale as a professional nurse, 'easing the pain of patients, witnessing their faces softened with gratitude.'"