To share messages of remembrance about a recently deceased sister please visit our Message of Remembrance page.
To make a donation in memory of one of our sisters, click HERE.
Are you looking for a Sister who served in your school, hospital, parish or other ministry?
Please complete our Find A Sister form.
Sr. Agnes Wosko (1917-2012)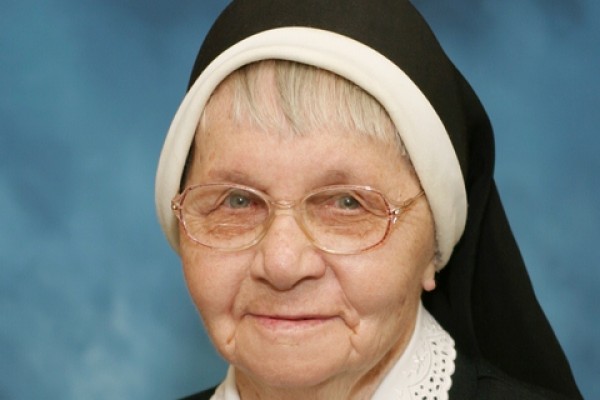 A teacher and long-time food supervisor for the former St. Joseph Province in Pittsburgh, Sr. Agnes Wosko was well known in Pittsburgh's 'Strip District,' where she regularly shopped for fresh produce, securing terrific bargains for the sisters and happily offering to pray for all she met.
A native of Cleveland, Leonarda Wosko and her family moved to Lansing, MI, for her father's job in the Oldsmobile plant. Taught by the CSFNs at St. Casimir School, the children also came to know the sisters as Mrs. Wosko often served as the sisters' driver. In 1932, Leonarda followed her older sister, Julia (Sr. Pearl Wosko, d. 1982) to the convent.
Sr. Agnes earned a bachelor's degree in education from Duquesne University; she taught primary grades in Pittsburgh, Erie and McKees Rocks, PA, and in Dearborn, MI. In 1956, while ministering as a child caregiver at Holy Family Institute, Sr. Agnes began to work in the kitchen. She updated the equipment and brought a new sense of order to food preparation and service. In 1960, she earned a Supervision Certificate from Fontbonne College in St. Louis and in 1969, attended the Holy Cross School of Culinary Arts in Massachusetts. In 1971, she became the food supervisor at the then Provincialate in Pittsburgh. For 40 years, she served in the kitchen in various capacities.
During her tenure, Sr. Agnes made frequent trips to the Strip District to buy fresh produce; over time, she built many friendships with the men who worked there, and they reciprocated with donations and price breaks for the sisters. Visiting Pete, a buyer, in his office one day, Sr. Agnes remarked how worried he looked. He told her he had $150,000 of fresh strawberries in three tractor trailers and had not been able to sell him. Sr. Agnes told him the strawberries would be gone before the end of the day. The phone rang after she left; a manager from a supermarket chain needed strawberries and took Pete's entire stock. For Pete and other benefactors, Sr. Agnes continued to pray aloud in the chapel each day.