To share messages of remembrance about a recently deceased sister please visit our Message of Remembrance page.
To make a donation in memory of one of our sisters, click HERE.
Are you looking for a Sister who served in your school, hospital, parish or other ministry?
Please complete our Find A Sister form.
Sr. Louise Huczek (1914-2012)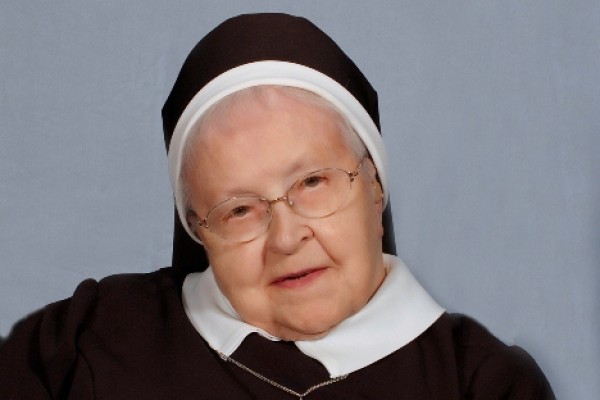 A Philadelphia native born to Polish immigrant parents, Mary Huczek grew up in St. Hedwig Parish, sharing a special devotion to the Blessed Mother with her family. At St. Hedwig, Mary was known as a good student who loved music, playing the piano, singing and dancing.
At age 12, when she discovered that three classmates were going to Torresdale to become CSFN aspirants, she contacted the Superior and let the sisters know that she would be ready that Sunday for the trip to the Motherhouse. On Sept. 12, 1926, she left to begin her new life – the only one of the four students to do so.
When she was 16, her father sent her a letter with the 'back story' of her vocation. When Mary's mother was deathly ill with influenza, she begged the Blessed Mother to cure her and promised that she would offer her child to become a sister. When Mary asked to become an aspirant, her parents saw this as a promise fulfilled. A younger sister, Josephine, also became a CSFN – Sr. Mary Chester who served at Nazareth Hospital.
Mary professed her final vows on the Feast of the Assumption, Aug. 15, 1930. Sr. Louise always attributed her strength to live out her vocation to the Blessed Mother.
Sr. Louise spent almost 37 years teaching music and Confirmation preparation to students at CSFN schools in Jamaica and Brooklyn, NY; Cambridge, MA, and McAdoo, Philadelphia, Scranton and Trooper, PA. Many different classes, choirs and shows, many years of teaching piano resulted in a very full ministerial life for Sr. Louise. At various parish assignments, she was responsible for decorating the altar and keeping linens and vestments in order. During World War II, she volunteered as a nurse's aide. At several locations, Sr. Louise also served as the religious superior and/or the school principal. In 1959, she was named the founding principal of Our Lady of Calvary in Philadelphia.
In 1981, Sr. Louise spent nine months in the hospital and at Mount Nazareth, requiring periodic dialysis. She attributed her recovery to the Blessed Mother.
On her return to the Mount, she spent the next 15 years as organist, helping to care for the sick, maintain the dining room and offering piano lessons. Later, when confined to the Infirmary due to failing health, she embraced the ministry of prayer. She was known to greet visitors: "I've been praying for you!" She was pleased to share her vocation story with the many young women who visited Mount Nazareth.