To share messages of remembrance about a recently deceased sister please visit our Message of Remembrance page.
To make a donation in memory of one of our sisters, click HERE.
Are you looking for a Sister who served in your school, hospital, parish or other ministry?
Please complete our Find A Sister form.
Sr. Agatha Preis (1909-2012)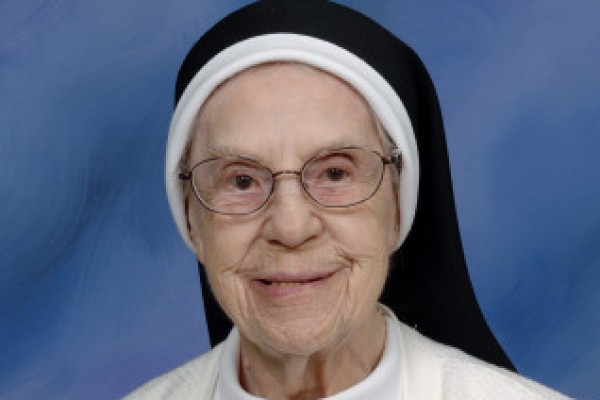 A native of Mammoth, PA, Mary Preis moved with her family to Chicago when the coal miners went on strike. One of 10 children of Sophie and Frank Preis, Mary attended Holy Family Academy in Chicago. She joined the CSFNs on Dec. 8, 1926 – the Feast of the Immaculate Conception. Sr. Agatha was known for her devotion to the Blessed Mother.
She spent 55 years in the classroom, with her first assignment at St. Stanislaus School in Kankakee, where she taught for 11 years. Other assignments included 14 years in Whiting, IN; 10 years at IHM in Chicago; 10 years in Harvey, IL at St. Susanna and then the combined Ascension/St. Susanna; eight years at St. Hyacinth, Chicago, and several years at St. Andrew the Apostle, Calumet City, IL.
A teacher in the primary grades, Sr. Agatha became an expert 1st-grade teacher. She loved the young students as her own children, and, being a prayerful person, she tried to instill a love for prayer in their lives. Her nieces recall how Sr. Agatha always provided prayer books and rosaries on the occasion of their First Holy Communions.
At many of her ministry assignments, Sr. Agatha also was given "Church Duty," responsible for seeing that the parish priests had everything at hand that was required for Mass or a special service. She was responsible for decorating the altars and the "holy wash" – laundering the altar linens. This added an hour to each day, and required a few hours each weekend.
At age 75, Sr. Agatha retired from teaching and continued her 'Church Duty,' serving as sacristan at St. Camillus for three years. At age 78, she transferred to the Provincialate in Des Plaines, where she was in charge of maintenance for eight years. In 1996, when the new Provincialate opened 'across the street' on River Road in Des Plaines, Sr. Agatha helped with clearing out the old building. Next, she served as seamstress at the Provincialate, eventually retiring to Nazarethville in Des Plaines.
As she grew older, Sr. Agatha continued to relate well to younger sisters, even where there was a difference of 40 or 50 years. One sister recalled living with Sr. Agatha at IHM Convent in Chicago, where she learned of Sr. Agatha's love of a good snowball fight! As soon as it snowed, as sisters were returning from Mass, Sr. Agatha was known to throw a few snowballs on the way home.
On the occasion of her 100th birthday, one of her former pupils from 1947 wrote to Sr. Agatha, recalling how she and her sister would help Sr. Agatha with the cleaning chores at their church in Whiting, IN. At times, the girls visited Sr. Agatha at the convent, helping Sister 'mangle' the altar clothes. Sr. Agatha would feed the altar cloth into the mangle and four small hands would roll it at the opposite end. Sr. Agatha would give each girl a piece of gum and tell them they would be finished working when they had chewed all the wrinkles out of the gum! She also shared stories with these two girls about her childhood days, telling them she always knew she would enter the convent.
At one of the celebrations for her 100th birthday in 2009, Sr. Agatha was asked for her secret to a long life. "Do what the superior asks!" she joked, "and of course, prayer."
Sr. Agatha passed away on May 15, at the age of 102.