To share messages of remembrance about a recently deceased sister please visit our Message of Remembrance page.
To make a donation in memory of one of our sisters, click HERE.
Are you looking for a Sister who served in your school, hospital, parish or other ministry?
Please complete our Find A Sister form.
Sr. Jane Harriet Leszczynska (1915-2012)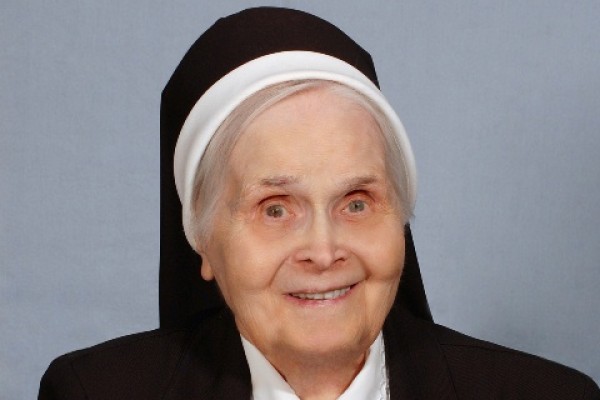 Dec. 27, 1915 – July 6, 2012
A native of Worcester, MA, Hedwig Jane was the second of eight children. The Leszczynskis lived near St. Mary of Czestochowa Parish, where the children attended the parish school staffed by the Sisters of the Holy Family of Nazareth. Hedwig Jane liked and admired the sisters – and their religious habit. By the time she was in first grade, she told her mother of her desire to become a sister.
Her parents blessed her decision to attend Nazareth Academy in Philadelphia for her high school education. She joined the CSFNs in 1935, and after professing her perpetual vows, she was invited to join the sisters in a new ministry in Hato Rey, Puerto Rico. One of the pioneering group of CSFNs in Puerto Rico, Sr. Jane Harriet spent eight happy years there. Her greatest joy was teaching religion to the children.
Sr. Jane Harriet enjoyed a long life in ministry and in community, with many families getting to know her during her teaching ministry. On her return from Puerto Rico, she enjoyed many and varied assignments, as a teacher, a teacher and local superior, a school principal, and a principal and local superior. She ministered at St. Mary of Czestochowa School, Philadelphia; Holy Trinity in Utica, NY, and twice at Visitation of the Blessed Virgin Mary in Trooper, PA. Next, she spent 12 years in Florida at both St. Brendan School, Miami, and St. Gregory School, Plantation.
In 1972, she returned to Philadelphia, working in the business office at Holy Family University. Three years later, she returned to the elementary school environment, first as a teacher at Queen of Peace in Ardsley, PA, and next, as superior and teacher at St. Adalbert in Philadelphia. In 1984, St. Jane Harriet began a nine-year ministry at Nazareth Academy Grade School, first as a teacher, then as a tutor and finally, as school librarian.
In 1993, Sr. Jane Harriet semi-retired to the then Provincialate community in Philadelphia, helping sisters in active ministry. After two years, she volunteered her office services to the newly formed Development Office in Philadelphia. From a humble beginning, stuffing envelopes, Sr. Jane Harriet realized that development work involved inviting others to become part of the Nazareth family through prayer and the sisters' interest in the needs of the donors.
Retiring 'for good' in 2008, Sr. Jane Harriet joined the retirement community at Mount Nazareth.
At her death on July 6, the sisters, her friends and family recalled Sr. Jane Harriet's favorite hymn, "How Great Thou Art!"
When Christ shall come with shouts of acclamation and take me home,
What joy shall fill my heart!
Then I shall bow in humble adoration,
And there proclaim,
'My God, how great though art.'