To share messages of remembrance about a recently deceased sister please visit our Message of Remembrance page.
To make a donation in memory of one of our sisters, click HERE.
Are you looking for a Sister who served in your school, hospital, parish or other ministry?
Please complete our Find A Sister form.
Sr. Fidelia Sopinski (1926-2012)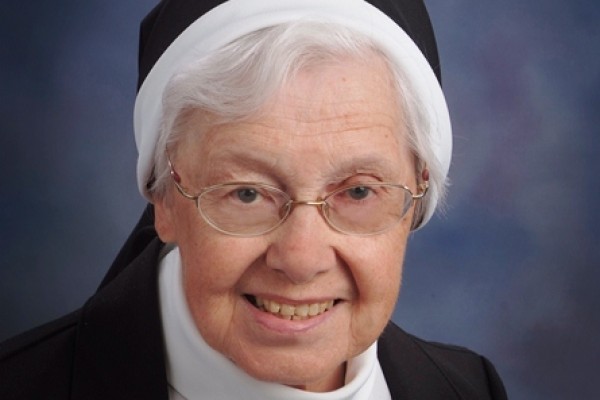 Aug. 1, 1926 – Sept. 6, 2012
The fifth of eight children born to Polish immigrants in Scranton, PA, Sr. Fidelia - Florence Sopinski first encountered the Sisters of the Holy Family of Nazareth at Sacred Hearts of Jesus and Mary Parish School. Florence considered religious life at the end of her grammar school days, but her mother asked her to finish high school first. Florence spent two years in public high school, finishing her diploma at St. John's High School where she was taught by the IHM sisters.
After graduation, Florence's mother again asked her to delay entrance to religious life. After working in a bakery and a laundry, Florence became a long-distance operator for Bell Telephone. Finally, at age 27, Florence was accepted as a CSFN postulant in Torresdale, PA. Given the name "Fidelia" when she became a novice, she spent her two-year novitiate at the CSFN formation house in Albano, Italy, near Rome, professing her first vows there in 1956. She spent the next two years as a house mother for a CSFN ministry in Enfield, England, and then returned to Philadelphia to profess her final vows in 1962.
Sr. Fidelia held a B.A. from Holy Family College in Philadelphia and a certificate from Adelphi University's Child Care Institute on Long Island, NY.
Sr. Fidelia taught for a time at St. Stanislaus Kostka School in Brooklyn, NY, but most of her ministry centered on child care. She served many years at St. Christopher Home, Sea Cliff, NY, and returned to England for an additional year of child-care ministry. In 1971, Sr. Fidelia was asked to assist at the new House of Prayer in Riverhead, NY. Her "active ministry" ended in 1983 with her retirement to Immaculate Heart of Mary Convent in Monroe, CT. There, she spent nearly 30 years as sacristan, also serving as a volunteer catechist at two local parishes for more than 20 years.
As sacristan, Sr. Fidelia was known for her attention to detail and her "trusty little notebook" with instructions for every liturgy, whether in Ordinary Time, Advent, Lent, Christmas, Easter, or for jubilees or funerals. Her love for the Lord was evident in the way she moved about the sanctuary.
As a catechist, Sr. Fidelia first assisted another Sister before teaching classes on her own as her confidence in this ministry grew. A former director of religious education who knew Sr. Fidelia said she was "an incredibly strong, gentle woman." Others who knew Sr. Fidelia over the years commented on her sweetness, her ready smile and welcoming ways. She had a wonderful sense of humor that often emerged when playing a game or while sharing a meal with her fellow sisters. Her love for Pictionary and the card game Nickel Nickel were legendary. It's been said that she was quite a dancer in her youth. An avid swimmer, she also enjoyed 'getting around' on a jet ski and on a three-wheeled motorized bicycle in her later years.
Sr. Fidelia loved spiritual reading and often shared with others what she had discovered in a book, an article or on a tape. Over the course of her 30-year retirement, she blossomed into a true contemplative, seeking to become the holy and special woman God wanted her to be.
A sister who began her novitiate in Albano after Sr. Fidelia recalled that the novice mistress told them they should try to emulate Sr. Fidelia in her total giving. "This is a holy woman," she said of Sr. Fidelia. Those who knew her in her ministries and in her retirement agree.
Sr. Fidelia's death was unexpected yet peaceful. She left the convent for what was expected to be a one-day procedure; instead, she slipped away peacefully with her sister and niece sitting beside her. In Sr. Fidelia's faithful and charitable life, we see clearly that the meek will inherit the earth.