To share messages of remembrance about a recently deceased sister please visit our Message of Remembrance page.
To make a donation in memory of one of our sisters, click HERE.
Are you looking for a Sister who served in your school, hospital, parish or other ministry?
Please complete our Find A Sister form.
Sr. Margaret Langsett (1930-2012)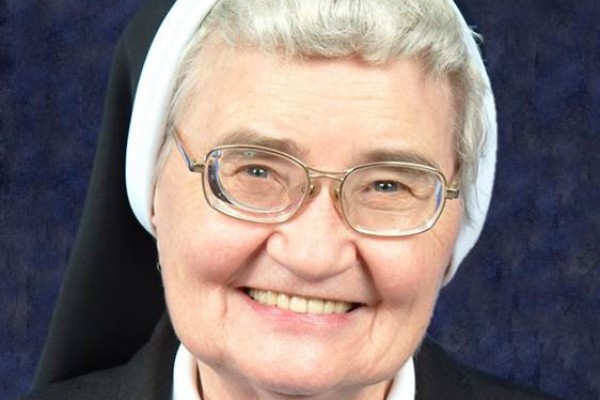 Nov. 21, 1930 – Sept. 6, 2012
Sr. Margaret (Marcella) Langsett's unusual journey to Nazareth began at age 12 with a visit to St. Josaphat Church in Chicago. It was her first time in a Catholic church and "changed my life completely," she later reported.
Her journey ended on Sept. 6, 2012, at age 81after 65 years as a member of the Sisters of the Holy Family of Nazareth (CSFN). She often remarked that she was chosen for the CSFNs before she even knew of the Congregation because she was born on Nov. 21, the date that CSFN foundress Bl. Mary of Jesus the Good Shepherd (Frances Siedliska) died. Sr. Margaret believed she was under the protection of Mary, Mother of God, because she was born on the feast of the Presentation of the Virgin Mary.
A Chicago native, Marcella Langsett was the third of four children born to parents of German and Scandinavian heritage. The marriage dissolved and the children lived with their father, who later remarried. The family moved several times, eventually settling in Spokane, WA, when Marcella was 4 ½ years old. Mr. Langsett did not practice his Methodist faith, so "we were raised in a loving but nonreligious environment."
She discovered God when she was nine, picking up a Bible from a box of items purchased at an auction. Reading about a loving God, she went in search of him. Noticing neighbors dressed up on Sundays, she asked her father if she, too, could go to church. With his permission, Marcella took her baby brother with her to the Presbyterian church around the corner from her home. "Continuing my search for God, I would attend various church services with neighbors and friends. I had no particular interest in the Catholic faith except to call the Catholic children names as our paths crossed en route to school."
A few years later, in 1943, she and her younger brother were sent to Chicago to visit their mother, a lapsed Catholic. Marcella visited St. Josaphat's, the first American parish served by the CSFNs, and it was there "that my journey towards Nazareth began…I felt deep in my heart that this was where I belonged and fell in love with the Blessed Mother who became my mother."
Marcella first met the CSFNs when her mother enrolled the two children in the parish school. In May 1945, before graduation, Marcella made her first Holy Communion. Next, she made arrangements to enroll as a CSFN aspirant at Holy Family Academy, Chicago, without the knowledge or her parents. "It had to be God's special calling, his special grace which sustained me during this difficult time," Sr. Margaret recalled.
In 1952, two years after Sr. Margaret professed her temporary vows, her father came to Chicago to take her home, to marry and have a family. Sr. Margaret "finally convinced him I was happy and had been specially called to this state in life." After professing final vows in 1956, Sr. Margaret returned to Spokane for a family visit – her first since 1943. She visited the local Catholic church, thanking God for his love and blessings and wondering if she was kneeling next to someone she had taunted as a child.
Over the decades, Sr. Margaret served in teaching, chaplaincy and formation ministries. She taught for 24 years, including 14 years as a first-grade teacher and operating a specialized reading center for grades 1 – 8. The first graduate from the University of Dallas in 1960, she received a master's in religious education from the University of St. Thomas in Houston in 1977. She conducted adult teacher training courses for the Diocese of Dallas (1971-74) and worked in the Pastoral Care Department at Bethany Hospital, Wichita Falls, for 10 years.
After earning her CPE (Chaplaincy Pastoral Education) certification, Sr. Margaret was assigned as director of pastoral care at Trinity Mother Frances Hospital in Tyler, TX, a role that gave her great joy. After seven months, she was asked to return to the Provincialate in Grand Prairie, TX, as assistant provincial superior and provincial secretary. Other community roles included secretary to the vice provincial superior while serving as vocation director, editor of the province newspaper, local superior and, from 2004-09, as facilities manager in Grand Prairie, TX. From 1998-2008, Sr. Margaret was the part-time associate vocations director for the Diocese of Dallas.
In 2005, Sr. Margaret was diagnosed with cancer of the right vocal chord. A few years later, she was diagnosed with breast cancer and in August 2008, with bone cancer. During her many visits to doctors and radiation centers, she continued her ministry to the sick through her joyful faith. Radiation treatments, she joked, meant that she glowed in the dark. Soon she was using a scooter to get around the convent, giving rides to children who visited. She loved nature and considered it part of her therapy. She even managed to hide 12 ducklings in her shower one winter, nursing them into spring. She often introduced herself as the "Fun Nun from the God Squad."
In April 2010, she wrote in her biography: "when you read this, I want you to concentrate on how God's loving, forgiving and compassionate care for me has been the result of an unbelievable journey. He chose to guide and direct me from the age of 9 when I discovered that he made me and (I) went in search of him. I have found that God who loved me so much that he made me. I have truly been touched by his love."