To share messages of remembrance about a recently deceased sister please visit our Message of Remembrance page.
To make a donation in memory of one of our sisters, click HERE.
Are you looking for a Sister who served in your school, hospital, parish or other ministry?
Please complete our Find A Sister form.
Sr. Elizabeth Kobierowski (1917-2012)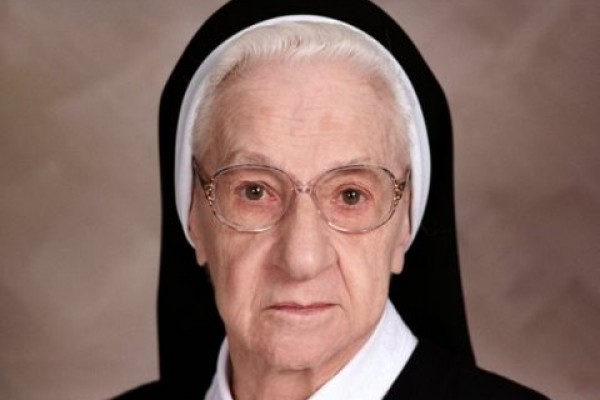 Oct. 3, 1917 – Nov. 3, 2012
A native of Philadelphia, Eleanor Kobierowski was born almost six months after the U.S. entered World War I. The third of the eight children of John and Anna (Glowacz) Kobierowski, Eleanor was baptized four days after her birth at the family's new parish church, St. Adalbert's. Three weeks after she was born, the family moved to its long-time family home on Gaul Street in the Port Richmond area of Philadelphia.
Eleanor and her siblings all attended St. Adalbert School, where they were taught by the Sisters of the Holy Family of Nazareth (CSFN). Eleanor wrote that she loved the sisters who taught her and she wanted to be like them. Upon graduation, she had her eyes set on attending high school at Nazareth Academy where the CSFNs also taught. There, she recognized her desire to become a teacher and to enter the CSFN community. Eleanor was accepted as a postulant after graduation on June 15, 1936.
She received the name "Sr. Mary Elizabeth" when she became a novice, and professed her final vows in 1945. She served as a role model to her four younger sisters who followed her to Nazareth as Sr. Ann Rita, Sr. Cordia, Sr. Philomena and Sr. Janice.
After professing her first vows, Sr. Elizabeth began her 53 years of teaching ministry at Our Lady of Czestochowa in Brooklyn, NY. Over the years, she also taught at St. Stephen, New Jersey, and at Pennsylvania schools including Queen of Peace, Ardsley; St. Kunegunda, McAdoo, and at St. Katherine of Siena, St. Adalbert and Nazareth Academy Grade School, all in Philadelphia. She also taught at a CSFN school in West Philadelphia and at St. Mary's Villa in Ambler, PA. Sr. Elizabeth held a bachelor's in education from Manhattan College and a Provisional Certificate in French from the Pennsylvania Department of Instruction. She loved teaching, particularly the primary grades, though she spent many years teaching students in the upper grades. She also served as the principal in some schools.
She closed her teaching career at her home parish, St. Adalbert, where she taught from 1984—'92, then serving as a resource person through 1996. She retired in 1996 to prayer ministry at St. Katherine of Siena, and moved to Mt. Nazareth two years later.
Sr. Elizabeth was a gift to community life, known for her love, gentleness and peaceful spirit. As a local superior for several six-year terms, she was always ready to give a helping hand and share a warm smile. She was a great cook, a seamstress and someone who never said 'no' when a request was made. She loved enjoyed visiting with family and friends, including her sisters, the children of her older sister Josephine, her nephew Harry and niece Terry, her friends and her One-to-One sponsors. In 2011, she celebrated her 75th jubilee of religious life and was grateful to all who took part in the celebration.
After a few days of hospice care this fall, on the afternoon of Nov. 3, Sr. Elizabeth died as she had lived – with love, grace and peace.