To share messages of remembrance about a recently deceased sister please visit our Message of Remembrance page.
To make a donation in memory of one of our sisters, click HERE.
Are you looking for a Sister who served in your school, hospital, parish or other ministry?
Please complete our Find A Sister form.
Sr. Jane Zborowski (1917-2012)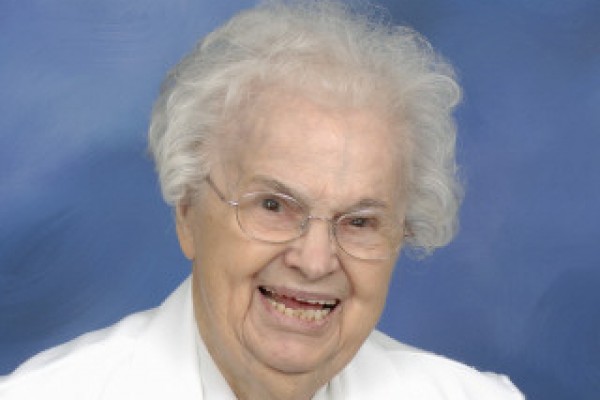 May 5, 1917 – Nov. 29, 2012
A Chicago native, Sr. Jane spent most of her years in ministry in Chicago area and Northwest Indiana parishes as a kindergarten teacher combined with duties as the parish organist.
Her dual skills took her to Sydney and Perth, Australia, as well as to Texas, where she served at St. Thomas Aquinas, Dallas, and Bethania Hospital, Wichita Falls. More recently, she taught kindergarten at St. Hyacinth, Chicago, for six years. Her longest assignment was eight years at Holy Rosary Parish in Roseland, IL; her largest class — 101 kindergarten students in Sydney, Australia!
Sr. Jane's own education began at St. Adalbert in Chicago. She attended Holy Family Academy in the city. It was the time of the Great Depression; her mother had been widowed when Jane was only two. Despite those struggles, Sr. Jane reported that her "personal family life was a happy one."
The youngest of four children, she entered the community in 1933. At the time of her 75th jubilee, she recalled, "I danced the day I said 'yes' 75 years ago; I only ask that I am able to continue saying 'yes' – yes to you, Lord, and all you send." As a young sister, Jane continued her schooling, first in music education and receiving her teaching degree from De Paul University in Chicago. Throughout her ministerial career, she loved serving as a parish organist and bringing music into her classrooms.
She began teaching in 1936 at St. Hyacinth, Chicago, and spent most of the next 50 years in the classroom. The exception: two years of service as a clerk at Bethania Hospital in Wichita Falls, TX. Other teaching assignments included St. John the Baptist, Harvey, IL; St. Casimir, South Bend, IN; Holy Rosary, Roseland, IL; St. Stanislaus Bishop & Martyr, Kankakee, IL; Holy Trinity, Chicago; Holy Spirit in Sydney, Australia; St. Camillus, Chicago; St. Emily, Mt. Prospect, IL; St. Adalbert, Whiting, IN; St. Hedwig, Chicago; St. Thomas Aquinas, Dallas, TX; St. Ann, Chicago, and St. Andrew, Calumet City, IL.
Eventually, Sr. Jane transitioned from teaching to pastoral care. She also worked at the information desk at Holy Family Hospital and at Holy Family Health Center, in Des Plaines, IL. For a few years, before moving to Nazarethville, she was a volunteer receptionist at the Provincialate in Des Plaines.
She recalled her most memorable experience as her participation in a charismatic movement in Dallas, TX. She wrote, "In my sister community, I was taught who God is, but in the Community of God's Delight, I was taught to know God as my always loving Father...I began to know him on a felt level, not just an intellectual one." In later years, she noted, "My prayer life is so integrated into my whole life that I cannot speak of it as a separate aspect of my day-to-day life; I believe one's whole life is a prayer."