To share messages of remembrance about a recently deceased sister please visit our Message of Remembrance page.
To make a donation in memory of one of our sisters, click HERE.
Are you looking for a Sister who served in your school, hospital, parish or other ministry?
Please complete our Find A Sister form.
Sr. Graciliana Rafalowska (1906-2012)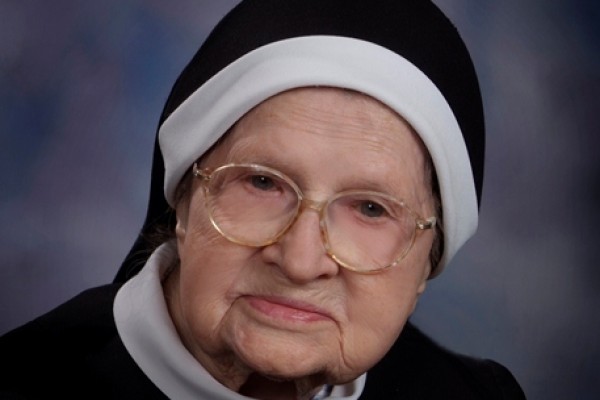 Sept. 2, 1906 - Dec. 18, 2012
Sr. Graciliana (Wanda) Rafalowska, 106, spent 90 years of her remarkably long life as a Sister of the Holy Family of Nazareth (CSFN). The youngest of seven children, she was baptized at Our Lady of Czestochowa Church in Worcester, MA — a town that contributed many young women of Sr. Graciliana's generation to the community.
Sr. Grace, as she was known, saw many changes in the community, the Church and society at large during her long life. She joined the CSFNs when there was a single province based in Des Plaines, IL; watched it grow into five U.S. provinces, and then witnessed the consolidation of those provinces to a single new Holy Family Province, also headquartered in Des Plaines. In the wake of Vatican II, she came to accept the changes in the sisters' habit, greater interaction with people outside the convent and changes to the liturgy.
Sr. Grace cherished her religious life and her Catholic faith; she was very devoted to Nazareth. She would speak out when she felt that cultural changes, such as worldliness, might be encroaching on the beliefs she embraced as a Catholic and as a sister. In an interview six or seven years ago, she said the biggest change she saw in her long life was the erosion of family life. Not technology, not transportation — but family life, a true Nazareth value.
Sr. Grace was known for her perfect Palmer penmanship — still beautiful at age 100; her smooth skin, infectious smile and delightful sense of humor.
She spent 60 years in the classroom, teaching seventh– and eighth-graders most of that time. In her later years, she 'downshifted,' teaching in the younger grades. Her fellow teachers said she seemed to 'have a handle" on how to bring out the best in each child. She taught in parish schools in Utica, Brooklyn and Queens, NY; Philadelphia, PA; Paterson, NJ; New Haven, CT, and in her hometown of Worcester, MA. She retired to the then provincialate in Monroe, CT, in 1986.
Sr. Grace was as special an individual as one might expect of a woman who lives to 106, with 90 of those years as a vowed religious. At 106, she still wanted to be of use and would ask her caregivers for something to do. She was very strong physically, spiritually and in all her beliefs. Her religious life was paramount, marked by daily Mass, prayer, devotion to the Holy Family, with a special love of the Blessed Mother. She was at peace with her life as a sister, and even when she began to talk of 'going home,' she never complained about having to wait so long to join the Lord and her loved ones. She is remembered for persevering to the end with fidelity, grace and a touch of humor.