To share messages of remembrance about a recently deceased sister please visit our Message of Remembrance page.
To make a donation in memory of one of our sisters, click HERE.
Are you looking for a Sister who served in your school, hospital, parish or other ministry?
Please complete our Find A Sister form.
Sr. Mira Sokolowska (1919-2013)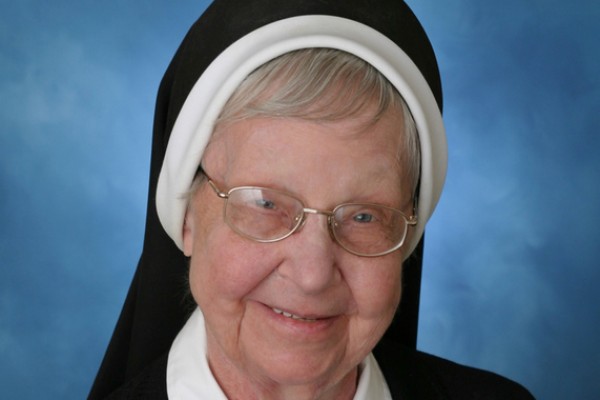 Oct. 14, 1919 – Feb. 17, 2013
Sr. Mira Sokolowska had a long list of favorite things, among them the song, "You Are My Sunshine" and the story of Jesus and the Samaritan woman from the gospel of John. She chose that reading for her wake service at the chapel of Holy Family Manor, Pittsburgh. Family, friends and staff joined in singing her favorite song the next day after her funeral Mass.
One of 10 children of Josephine and George W. Sokolowski, Valeria was baptized at St. Hyacinth Church in the Oakland section of Pittsburgh. She attended the parish school, where she was taught by the Sisters of the Holy Family of Nazareth (CSFN). In 1935, she headed to Mt. Nazareth Academy in Pittsburgh, where she was steeped in the charism of the order. She joined the congregation in 1938.
Sr. Mira ministered in elementary and junior high schools in Michigan, Ohio and Pennsylvania. She earned her BS from Villa Maria College in Erie, PA, while teaching at St. Stanislaus School in that city. She continued her studies in religious education, earning an MA from Spalding College in Louisville, KY, in 1965. Her students recall how kind she was to them as a teacher, imparting not only knowledge but inviting them to experience the gentle love of God that she knew so well.
In addition to teaching, Sr. Mira also ministered in parishes, served as co-manager in a senior citizens' apartment, worked as a parish social service minister and most recently as a Spanish and art teacher at Mt,. Nazareth Learning Center before retiring to Holy Family Manor in 2004.
Those who knew Sr. Mira during her parish ministry assignments note how helpful she was to the pastor and dedicated to serving the parishioners. She was well loved by both the people of the parish and the sisters with whom she lived. Sr. Mira had a special love for animals and enjoyed caring for a pet dog at various times in her ministry. One sister remarked, "I will remember Sr. Mira for her love for life, her love and respect for priests and her love for God's creatures, as well as her love for music."
On retiring to Holy Family Manor, Sr. Mira became known as a ray of sunshine for both staff and residents. Many staff members noted that when they had a hard day, they would visit Sr. Mira, whose smiling blue eyes seemed to tell them, "I love you and so does Jesus."
One sister wrote of Sr. Mira: "She was truly a ray of sunshine offering her simple words of encouragement and love that uplifted other residents, the staff, family and friends. In her own physical diminishment, she still reached out to offer her presence to others in need...She taught us in these retiring years that love is about accepting people as they are, not the way we think they should be."