To share messages of remembrance about a recently deceased sister please visit our Message of Remembrance page.
To make a donation in memory of one of our sisters, click HERE.
Are you looking for a Sister who served in your school, hospital, parish or other ministry?
Please complete our Find A Sister form.
Sr. Edith Willow (1916-2013)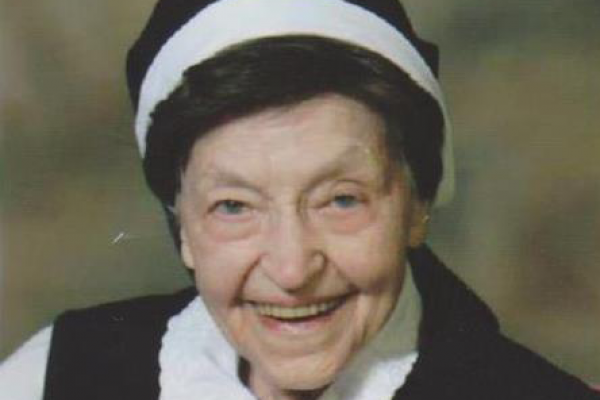 March 26, 1916 – April 24, 2013
Long-time teacher, school principal, professor, supervisor, writer and poet, Sr. Edith Willow was a native Chicagoan who spent time in Rome and in England on behalf of the congregation, always returning to her hometown for new ministry assignments.
Infant Bernice Wierzbowski was baptized at Holy Trinity Parish, Chicago. One of seven children, Bernice's parents eventually changed the family name to 'Willow.' (One sister, Bonita, became a Felician sister.) The family moved to St. Hyacinth Parish, where Bernice began her schooling under the CSFNs. She became a postulant while continuing her high school studies, receiving her diploma from Holy Family Academy in Chicago.
Sr. Edith loved teaching, and she began this career with second graders at St. Valentine School in Cicero, IL. Four years later, she began full-time college studies at De Paul University (then, DePaul Normal School) and received her degree in education. She brimmed with excitement at learning new teaching techniques and the latest trends in education, and began sharing her knowledge with anyone interest, to "so many of us who became better teachers because of her influence," one sister recalled.
Her final years in an elementary classroom were at St. Hedwig School, Chicago; in 1943, she graduated to high school, teaching at St. Michael's in Chicago. In 1946, she began an eight-year stint at Holy Family Academy. Recognizing her gifts for teaching students as well as her fellow teachers, the community asked Sr. Edith to serve as the 'school supervisor,' a resource to sisters in education ministry. During this time (1954-62), she published Famous Masterpieces of Art for use in Archdiocese of Chicago schools. She also published an illustrated booklet about Mother Mary of Jesus the Good Shepherd, so that young children could experience God's love through Mother Foundress.
While still serving as the Province School Supervisor, Sr. Edith developed a great devotion to St. Thomas More and his writings. Her doctoral dissertation, "An Analysis of the English Poetry of St. Thomas More" was accepted and published by Loyola University, where she received her Ph.D. in 1959. Her dissertation is on file at the Library of Congress, the British Museum Library, the Newberry Library in Chicago, and the libraries at both DePaul and Loyola universities in Chicago.
Sr. Edith joined the staff at De Lourdes College in Des Plaines, IL, in 1962, teaching English composition, speech, and children's literature. In 1966, she became principal of Holy Family Academy. Her term was short, as in 1968, she was asked to serve as a teacher in the CSFN province in England. Off to England, where, she said, God rewarded her with friends, music and flowers. Eight years on English soil and "there it was certainly a pleasure to work, to pray and to toil," Sr. Edith said.
In 1976, she was called to Rome with sisters from around the world to study and revise the CSFN Covenant of Love. The work complete in one year, Sr. Edith returned to Chicago, teaching English at De Paul, Roosevelt and Loyola universities and at Felician College. In 1981, Sr. Edith became an instructor in spirituality at St. Mary of Nazareth Hospital School of Nursing, Chicago. During this period, she also did research projects for the community. Over the years, she was known for her great love for reading and writing, and her ready smile when asked to share her knowledge.
Following St. Mary's, she returned to St. Hyacinth Convent, where she had time to continue her research. In 1991, she was among a group of poets who received 'Golden Poet" awards from World of Poetry, a California organization, for her submission, "Kaleidoscope of Life." From 1993 to 2002, Sr. Edith resided at other Chicago area convents. In 2002, she retired to Nazarethville in Des Plaines, IL. Among her papers was found this prayer:
My soul the Lord does magnify, and with my fellow sisters, I join in praising God,
Together in spirit from 1931 until today, in our individualized ways the road to perfection we trod,
All these years spent in the Garden of Nazareth in love with the Sacred Heart
A prelude to heaven when our journey homeward we start.
For a life of eternal bliss with the Father and the Son
And the Holy Spirit who are Three in One,
Oh God, for perseverance I humbly pray
Please let me see the light in eternity's Day!