To share messages of remembrance about a recently deceased sister please visit our Message of Remembrance page.
To make a donation in memory of one of our sisters, click HERE.
Are you looking for a Sister who served in your school, hospital, parish or other ministry?
Please complete our Find A Sister form.
Sr. Casilda Puchalska (1913-2013)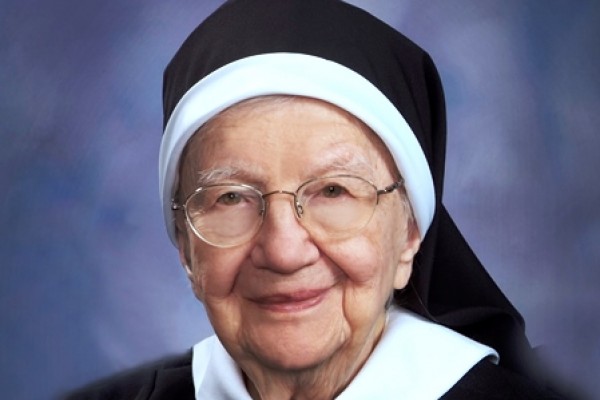 June 12, 1913 – June 3, 2013
Just nine days before her 100th birthday, Sr. Casilda Puchalska was called home to God. A native of Scranton, PA, and the oldest of nine children, young Hedwig was taught by the Sisters of the Holy Family of Nazareth (CSFN) at the parish school. She attended Nazareth Academy in Torresdale, PA, graduating in June 1928. Six months later, she joined the community and in July 1930, she became a novice, taking the name of Mary Casilda. Sr. Casilda professed her perpetual vows in 1938.
For 56 years, from 1932-88, Sr. Casilda taught in schools from Philadelphia to Utica, NY. She taught at St. Adalbert School and Nazareth Academy in Philadelphia; St. Mary's Home, Ambler, PA, and Little Flower Children's Services, Wading River, NY. For 18 years, she taught at Holy Trinity School, Utica, NY, retiring from teaching after that assignment. She stayed on at Holy Trinity for another 18 years, visiting the sick and homebound in the parish with members of the Legion of Mary. She looked after the needs of seniors who met at the parish hall and also was a presence to the Association of the Holy Family.
Those who knew Sr. Casilda during her teaching ministry share stories of her love for her students and her great memory. One sister recalled that a nephew in Sr. Casilda's class regularly stayed after school to clean her chalk boards and walk her home to the convent. The family was disappointed when Sr. Casilda retired from the classroom before his younger brother could be in her class! When former students visited her, Sr. Casilda regularly asked after their siblings, even though she had never taught them.
Eventually, she retired to Immaculate Heart of Mary Convent in Monroe, CT. After 36 years at Holy Trinity, Sr. Casilda found the transition difficult. She found comfort in daily Mass, her prayer life and in reading, especially the lives of the saints. St. Theresa, the Little Flower, was her favorite. She enjoyed the 'lively art of conversation' with her fellow sisters. Both in her retirement and her active ministry, Sr. Casilda was known as one who loved laughter.