To share messages of remembrance about a recently deceased sister please visit our Message of Remembrance page.
To make a donation in memory of one of our sisters, click HERE.
Are you looking for a Sister who served in your school, hospital, parish or other ministry?
Please complete our Find A Sister form.
Sr. Loretta Trzeciak (1918-2013)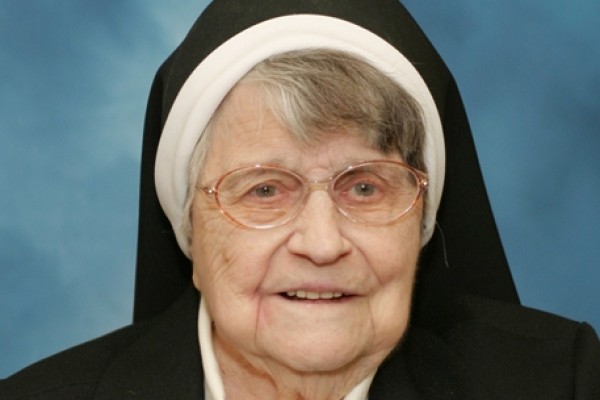 Oct. 3, 1918 – June 15, 2013
Regina Trzeciak was almost 18 years old when she became a CSFN postulant, but her parents often told her she really entered the convent at age seven since she was always helping the sisters at Holy Family Parish and School in Pittsburgh with errands, even bringing them treats from the local ice cream shop. Regina received the name 'Sr. Loretta' when she became a novice, and she believed she was names in honor of Mother Lauretta, the general superior of the CSFNs who had followed in the footsteps of CSFN foundress, Bl. Mary of Jesus the Good Shepherd. One sister noted that Sr. Loretta died on the same date — June 15 — as Mother Lauretta.
Having professed her temporary vows in 1939, the new Sr. Loretta began her teaching ministry in Farrell, PA. Her ministry assignments took her to Detroit; Cleveland; Erie, PA, and Library, PA, where she was part of the staff that opened St. Joan of Arc School. Sr. Loretta also served as principal of Holy Family Institute in Emsworth, a Pittsburgh suburb, and of St. Casimir School in Erie.
Sr. Loretta is remembered by many for her dedicated service to the students at Holy Family Institute, where she served as principal, superior and food supervisor. Sisters and staff noted her willingness to enter into the life of the residents and surprise them with special treats, food and occasional entertainment on the holidays. A former superintendent of the Avonworth School District near Pittsburgh says he admired Sr. Loretta for her ability to show great concern for all children, "regardless of background, race, creed or problem." He was touched by her "warmth and love for the children and her desire to help each child seek satisfactory solutions to problems and to arrive at the goals they have set for themselves."
More recently, Sr. Loretta served as convent superior of Holy Family Manor in Ross Township, Pittsburgh, while also volunteering as a receptionist, welcoming staff, sisters and family members. She and her family were 'key players' in the then St. Joseph Province Fall Festival; one could always find Sr. Loretta or a family member in the animal booth trying to help children win a special prize.
Sr. Loretta always said that her mission was to spread the love of Jesus, and her own love of God was strong enough to touch others who had left the Church, inviting them to return to a loving and forgiving God. This love had many facets, and for Sr. Loretta, it reached out to the Steelers, the Penguins and Pirates of Pittsburgh. In addition to her prayer books and Scripture, Sr. Loretta was an avid reader of the daily sports pages of the Pittsburgh Post-Gazette.
She spent much time with one of her favorite spiritual books, "Prayer is Love," by Edward Carter, SJ. Among her many underlines in the book are these closing words to Chapter 1: "Christian prayer fundamentally is a love. It's a reality that simple and that tremendous!" Sr. Loretta's note: "How true!"
Sr. Loretta often spoke lovingly of Mary, her Mother, and on the day she died, she announced that Mary was coming for her that day. She had a tapestry of Our Lady of Guadalupe on her wall and during any suffering, she would turn to Mary and pour out her heart, her pain and her desire of love for others.