To share messages of remembrance about a recently deceased sister please visit our Message of Remembrance page.
To make a donation in memory of one of our sisters, click HERE.
Are you looking for a Sister who served in your school, hospital, parish or other ministry?
Please complete our Find A Sister form.
Sr. Stephanie Morholz (1921-2013)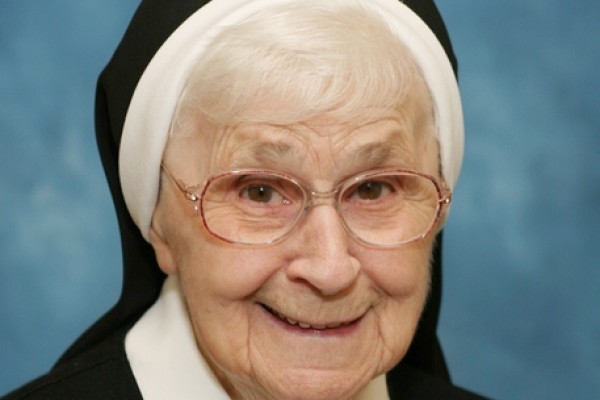 June 12, 1921 - July 6, 2013
Sr. Stephanie Morholz spent her ministerial life as a teacher, child care worker, secretary and chapel sacristan, but perhaps she is best known for one of her volunteer projects — as a seamstress for the annual downtown Pittsburgh crèche. In 1999, the Diocese of Pittsburgh began setting up a downtown crèche, the only authorized replica of the crèche in St. Peter's Square in the Vatican, and Sr. Stephanie was one of the seamstresses who sewed the outfits for Jesus, Mary, a shepherd boy and a shepherd girl.
In a story in the Holiday 2008 issue of Nazareth Connections, Sr. Stephanie noted, "I'm not such a good seamstress. That first year was really a dilly. The statues came in pieces — sticks, really. An arm here, a leg there. We finished only by the grace of God." She also appreciated the help of the late Sr. Virgilyn Lukasiewicz, an experienced seamstress. Sr. Stephanie considered it a privilege to be part of this Pittsburgh tradition. In the early years, she and other sister volunteers would brave the cold to dress the statues. More recently, the sisters assemble the figures in a heated warehouse.
Sr. Stephanie grew up in Pittsburgh's Polish Hill neighborhood, attending kindergarten and first grade at public school, then transferring to the Polish School of Immaculate Heart of Mary. When she was 11, Sr. Stephanie's mother died unexpectedly. Her older half-sister, who lived upstairs with her own family, began to care for Stephanie, her younger brother and their father. One year later, Stephanie noticed that her father was not well. She stayed home that day, saw the onset of his stroke and cared for him until he died four days later. Sr. Stephanie later reflected, "...as I reviewed all that happened since morning, I could only think that God was a true loving father who took me under his wing in my greatest need. He stayed with me through the entire ordeal I faced that week and (in) the future."
Stephanie's sister and family cared for Stephanie and her brother for 18 months before the children moved to Holy Family Orphanage, now Holy Family Institute in Emsworth, Pittsburgh. From here, Stephanie entered Mt. Nazareth Academy, a girls' high school in Ross Township, Pittsburgh, directed by the Sisters of the Holy Family of Nazareth (CSFN). Once, while visiting the chapel, Stephanie heard a voice calling her to come and follow Jesus by becoming a sister. She chose to become a CSFN aspirant while in high school. She treasured her high school education, particularly the classes in music and dance, and took up the violin. Later she played in Province orchestras in Erie, PA, and in Chicago in 1975 for the 100th anniversary of the congregation. She even played in Rome for then Pope Paul VI.
When she became a novice, Stephanie was given the name 'DeChantal;' she returned to her baptismal name in the wake of Vatican II. After her first profession of vows, Sr. Mary DeChantal went to Gallitzin, PA, to begin her teaching ministry. For each ministry assignment, she also notes her additional service in parish music ministries, such as parish organist or piano teacher. She taught at schools in Ohio, Alabama, Michigan and Pennsylvania. She was principal of Immaculate Heart of Mary and St. Joan of Arc schools in Pittsburgh. Later, she served in administrative support roles at Mercy Hospital, Altoona, PA, and St. Luke's in Suitland, MD; as a child care worker at Holy Family Institute and as a volunteer and sacristan at St. Leonard's Home in Hollidaysburg, PA, and the chapel at Holy Family Manor in Pittsburgh. In all these ministries, she was known for her generous heart and welcoming smile.