A Marian Reflection
May 15, 2017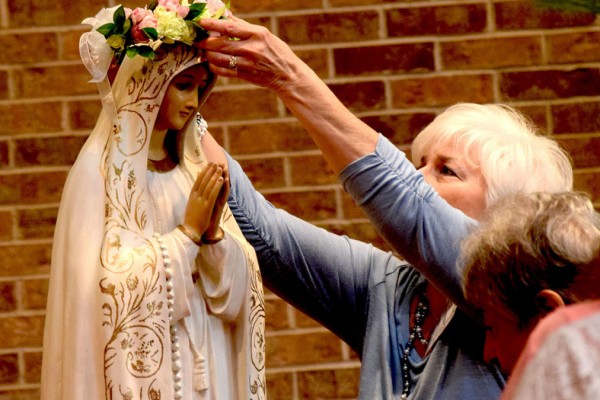 By Sr. Mary Louise Swift, CSFN
Editor's Note: Sr. Mary Louise Swift presented this reflection during the Association of the Holy Family May Crowning in Grand Prairie, TX. Associates throughout the province held May Crownings. See photos from the various events below.
In March, we celebrated the feast of the Annunciation, the moment Mary was asked to be the Mother of God. I see it as a mystery of joy, not of fear. The Holy Spirit enhanced her ability to listen faithfully, which was already a part of Mary's life from her conception.
Even as she listened well to God, if Mary accepted God's invitation, her pregnancy would be more than an "inconvenient scandal." In her day and in her country, there was a very direct way of dealing with an unmarried pregnant girl: she was killed.
Did that thought cross Mary's mind: "When I begin to show, will both my son and I be put to death by a storm of stones? What will that do to my beloved parents, Anna and Joachim? How will it affect my espoused husband, Joseph?"
Whatever she thought, Mary knew God and God's love for her. She trusted that God would bring about what the angel had promised, that she would give birth to the Messiah, and that the redemption of all humankind would take hold on the earth because of her trusting, faithful "yes." This "yes" of Mary's was no small thing. Her unshakable trust in and gratitude to God was the cause of her joy, and is the cause of our joy as well.
Mary's life shows us how to listen well. Trust, gratitude and joy are the results of faithful listening. They are dominant virtues in Mary's life because she let God in.
What emerges from trust, gratitude and joy is an awareness that there are multiple reasons around us and within us to give God praise, even in the face of difficulties. As long as we stay awake and notice the blessings of God, and listen for them, we, too, can have a Marian spirit. With trust, gratitude and joy growing in her life, it was impossible for difficulties to defeat Mary's spirit.
Think about some of those difficulties. Mary, filled with the Holy Spirit, sets out on a donkey for a 60-mile trip. She hastens from Galilee to the town of 'Ain Karim, near Jerusalem, where her cousin Elizabeth lived with her husband, Zechariah. Mary's joy in carrying the Messiah of God carried her through that difficult trip. She, who prayed all her life for the Messiah, never imagined that she would be so instrumental in bringing forth the Messiah.
Mary's undiminished joy affected all who knew her: her parents, Joseph, Elizabeth and Elizabeth's son John, who leaps in his mother's womb when Mary's greeting was heard. Think about what Mary said:
"My soul proclaims the greatness of the Lord (Magnifies); my spirit rejoices in God my Savior! He has looked upon my littleness, and from now on, all ages will call me blessed. Because He who is mighty has done great things for me. Holy is his name. He shows mercy from age to age to those who reverence him. He shows his might and disperses the arrogant of heart. He has cast down the rulers from their thrones, but has lifted up the lowly. The hungry He has filled with good things, and the rich he has sent away empty. He has helped Israel, remembering his mercy, according to his promise to our Fathers, to Abraham and to his descendants forever."
These revolutionary statements are found in Chapter 1 of Luke's Gospel. If these words are not expressions of trust, gratitude and joy to the Lord, I don't know what is! This spirit is what Mary passed on to her Son.
The saintly Pope John Paul II once said of Mary that she was the best example of what a "Son or Daughter of God" should be. Mary is the perfect "Disciple of God." A disciple by definition is one who listens to and acts on the Master's words. In his public life, with parables, teachings and miracles, Christ demonstrated that same "listening spirit," trust in God, gratitude, and joy in life that he first learned from Mary and Joseph, his first teachers of love on earth.
Mary is a model of faithful listening, one of the Sisters of the Holy Family of Nazareth's core values. Faithful by definition means dependable, trustworthy, what you can count on. The listening is a deeper kind of hearing. It's noticing what is said and what is not said, and how something is said. When we listen well, the truth of another's life unfolds. Remember Mary's request to Jesus at the wedding feast in Cana? "Son, they've run out of wine, and it's only the middle of the wedding reception." As reluctant as Jesus seemed he listened well to her request and saved the day!
FAITHFUL LISTENING lets go of pre-set agendas. Think of Mary at age 14: "I'm going to marry Joseph, we'll settle down in Nazareth and have a bunch of kids..." Then, God sends an angel to ask her, "Would you consider a change of plans?"
Faithful listening includes UNDIVIDED ATTENTION. One of the most precious gifts we can give to another is not letting our mind fritter away in the past or drift to what we need to do in the future, but being totally present to the now. What a gift to give one another — undivided attention. Mary got up immediately to help Elizabeth, her cousin. Mary listened and responded to circumstances, believing that everyone and everything had something to teach her. I can imagine her asking two questions frequently: How are you my teacher and what am I meant to learn and respond to?Mary was part of a group of holy women who responded to the needs of Christ and his disciples during his public ministry. Her FAITHFUL LISTENING and action often brought relief and much needed support.
Recall the story from Good Friday. Mary stood at the foot of the cross, not trying to fix the situation. She couldn't! But her faithful listening to her pain-filled suffering crucified son had to be a source of comfort to him. Whenever we listen well, we aren't called to provide solutions or answers to those who are suffering pain and loss. It's enough to be compassionate, listen faithfully, reverently, staying with someone in their sorrow and letting them know that we are with them in their trials as well as their joy and peace.
Faithful listening often allows us to enter into deeper relationships with others. For us as a group, dedicated to the spiritual renewal of family life, this Nazareth core value is essential and lived out daily. Mary listened well all her life. That's one of the reasons why Jesus, in the last moments of his life could say with all confidence, "Behold your Mother", to the disciple whom he loved.
After his Resurrection and before his Ascension, Jesus instructed the disciples to stay in Jerusalem and wait for the Holy Spirit. Is it any wonder that we find that the community gathered around Mary in the Upper Room? She, who first taught her Son Jesus how to listen, trust in God, and show gratitude and joy in living, became the Mother of the Christian Community. She embodied an attitude of faithful listening for all.
Isn't it natural to assume that Mary would help the disciples, forgive and heal while they waited for Pentecost and the Holy Spirit? And isn't it natural to assume that this same woman, Mary, will mother us into healing and forgiveness and help us express trust in God, gratitude and joy for the lives we have been given? It's what Moms, both earthly and heavenly, are meant to do!
With Mary as our companion, we can practice listening well, deepen our trust in God, and show gratitude and joy in our own unique ways whenever we say "Yes" to God's invitation to bring forth and to be Jesus for the world. Amen.