Your generosity helps our Sisters serve families
September 21, 2018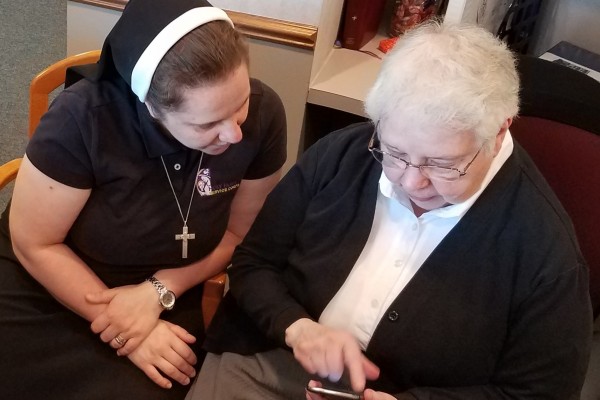 Dear Friends of Nazareth,
We know you're aware of how passionate our Sisters are about their ministries to families. While they serve families in many ways and in many settings, in all cases, our Sisters are very devoted to those to whom they minister.
Some of these ministerial jobs are paid positions, but many are volunteer.
For example, Sr. Catherine just completed a term as a member of our Provincial Leadership Team and has now taken a part-time paid ministry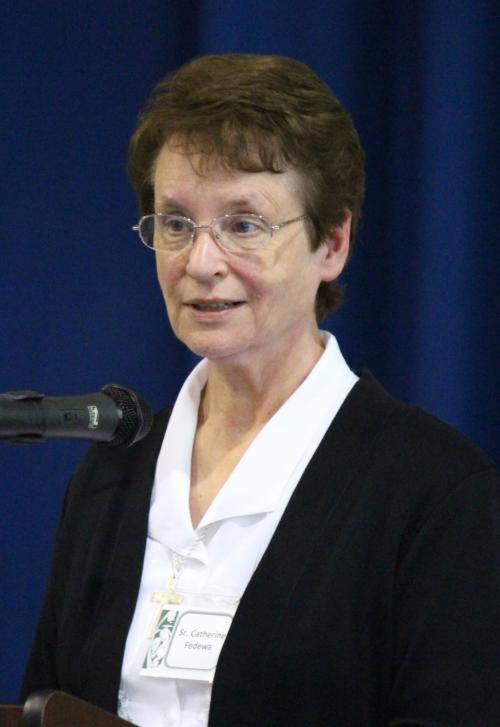 working in the area of outreach and advocacy for immigrants. In addition, she has several volunteer roles. She serves on the province Peace and Justice Committee. She is a member of Sisters and Brothers of Immigrants, an educational and advocacy group for immigration issues. And, she teaches English as a Second Language at the Aquinas Literacy Center in Chicago. Her current student is a woman from China.
Sr. Catherine also visits detained immigrants once a month with a group called Interfaith Community for Detained Immigrants. To say that she is devoted to the plight of immigrant families is a true understatement. "I'm so touched by the vulnerability of these people," says Sr. Catherine. "When I hear the plights they experienced in their own countries, I can't even imagine what it must be like to live there…violence, fear, poverty, extortion."
Speaking of that ministry, Sister said, "At first I thought, what good we are doing? We're just talking to the detainees; there's nothing we can do for them. But they exhibit such an amazing sense of hope in their pain. I don't know how many times they have expressed gratitude for us just being there, for people just listening to them, for knowing someone knows and cares about them. That's really the beauty of this ministry."
Some of our Sisters who can no longer manage full-time ministry work still choose to help where they can. Sr. Virginia drives her CSFN Sisters to doctor's appointments, helps her older brother and sister-in-law with shopping, and volunteers in our National Development Office (you might see her name on some of your acknowledgement letters!).
She will soon begin spending some time each week at Holy Family Medical Center, meeting with family members for prayer and companionship. "So many people are scared and suffering," she shares. "The very least I can do is pray with them and assure them of the prayers of our Sisters."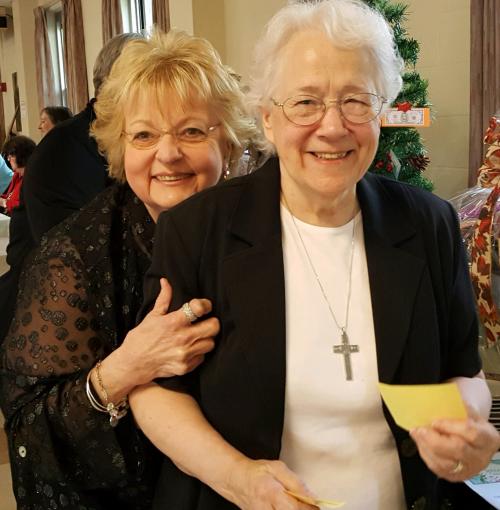 Sr. Marilyn is also retired from full-time ministry and she'll tell you that she doesn't do much - but that's a matter of perspective. In her early 80s, she is on the inter-congregational board for Regina Health Center in Ohio, is superior of her convent (meaning she pays bills, takes care of the property, etc.), serves on the province retirement committee, and she reaches out to her neighbors. She says, "When we see a need, we try to meet the need."
She shared a story about how she and Sr. Josette, looked out for their neighbor. "John lived next door to us and we would visit him and bring him meals when we could, for holidays especially. When he passed, one of his relatives moved into the house and she had five cats. We watched out for her, too. And who do you think cared for her cats when she would be out of town? We did!"
"One day we noticed her mail piling up, so we called for help. Unfortunately she had died, so we took care of her cats, contacted relatives, helped her relatives plan a Mass for her, and went with her family to the Mass. It sure made us feel good to help and we pray and hope that it made them feel good, too." Sister will continue to devote time to neighborhood outreach through the local Department of Aging.
It is your generosity that enables these and many of our Sisters to focus on their service to children and families. And we know we can't support them without you. So please, can you help these Sisters by sending a gift of $100, $50, or $25 today? Any gift at all - large, small or in between - is truly appreciated.
We assure you, your gift - whatever the amount - will make a difference!
Thank you for taking the time to read this letter and for doing what you can. And please, as you return your gift, also fill out your personal intentions so we may pray for you in our daily Masses. You mean so much to all of us and we can't thank you enough.
May God bless you with good health and with much peace and joy.
Sincerely,
Sr. Kathleen Maciej, CSFN
Provincial Superior
Katherine Barth
Director of Development
P.S. All of our Sisters minister in some way. CSFN Creations is a group of Sisters who in their spare time knit, crochet, sew, create ceramics, plastic tapestry, etc., then sell these creations at various craft fairs, and donate the proceeds to our sister-supported and CSFN sponsored ministries. When you make your donation you support these Sisters, too!
To make an online donation or to download and print our mail-in donation form, please click here.