Dec. 20: Wednesday reflection
December 20, 2017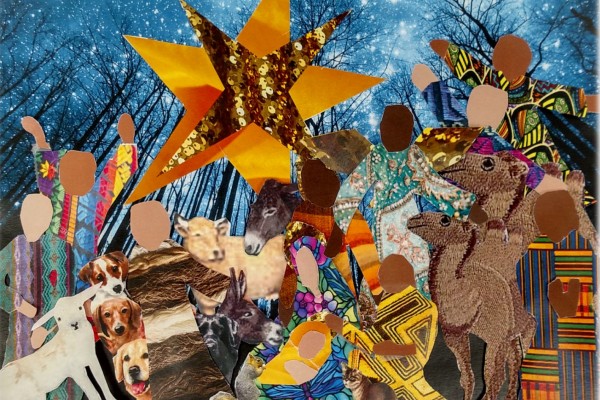 Dear Friends,
In five more days, we will be celebrating the awesome feast of Christmas. During these past weeks of Advent, we have been joyfully waiting and preparing to behold the Birth of Jesus.
As I began my Advent reflections, it brought to mind a story I heard about a little boy who was the innkeeper in a Nativity play. When Mary and Joseph came to the Inn and asked if there was any room, he said, "There is no room in the Inn." The little boy who played the innkeeper was sad. It was hard for him to continue to say no as Mary and Joseph asked again if there was any room in the Inn. Finally, when Mary and Joseph asked one last time, the little boy said, "There is no room in the Inn but you can come in for some cookies and milk!" Don't you just love it? I wonder where that young boy is today.
I thought of that story because part of my Advent reflections lead me to that Inn. If you think about it, there was no room in the Inn, yet Jesus decided to come into the world anyway! Mary and Joseph traveled from the well-lit Inn into the darkness that lead them to the stable where the Light of the World was born. Even though there was no room in the Inn, Jesus came for us.
I thought of the times that there may not have been room in the Inn of my heart because of jealousy, impatience, past hurts or lack of compassion. In today's world, there are so many things that take up room in our Inns. There are also so many ways we can fool ourselves into believing that we've made room for Jesus, when we really haven't. Hopefully, Advent has given us the time to prepare and make room for Jesus in our Inns. How will we keep that room available? Perhaps that is a question each of us needs to answer on our own. As we take the time to reflect on all of this, we may come up with ways to make our New Year bright.
My prayer for you this New Year is that you continue to be a positive presence, no matter where you are. Even if at times you feel there may be no room in your Inn, Jesus is always with you. Merry Christmas and a Happy New Year.
Till next week,
Sr. Theresita
Sr. Theresita Donach shares this weekly reflection via e-mail with a group of women discerning their vocation. If you are interested in joining that online community, please e-mail tdonach@nazarethcsfn.org.