Dec. 5: Wednesday Reflection
December 5, 2018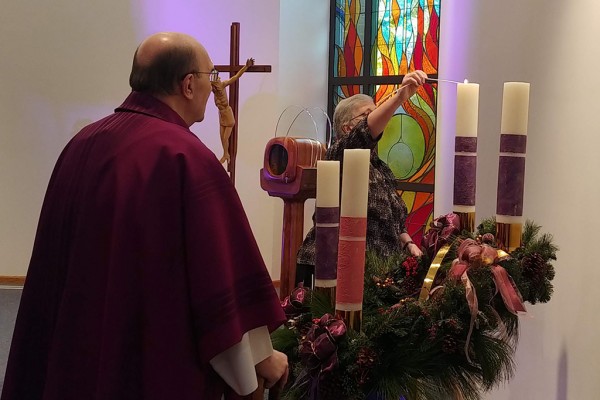 Dear Friends,
Advent comes at a time when everyone seems to be in an even bigger rush than usual. Gifts have to be bought, the house decorated, cookies and foods to be prepared, parties to attend. Whew, I get tired just writing the list. But what is this time of year really about?
Some of us may say that it is about awaiting the birth of Jesus. That brings to mind a story about a very young child who was taken up to the crib in church to see the Nativity set. When they got to it, he said to his mom, "wasn't he born last year?" Out of the mouths of babes! Yes, Jesus is already with us, how often do we think of that? Advent is a time to remind us of that.
Just recently our local community was talking about hospitality and in the midst of the conversation came the thought that people who enter our lives are not interruptions but encounters. Do you see the individual who may come to you while at work, or making a bed, or shopping or cooking a meal as an interruption or an encounter with Christ? During this busy season it can be hard to stop and think of people as encounters with Jesus because we are in a rush. Too much to do, I don't feel well, deadlines… How would this have affected Abraham if he had not stopped to attend to the three visitors who came to him unexpectedly?
So what am I trying to share with you? STOP and take the time to recognize what is going on around you and also within. Do you have a plan to spend a little more time in prayer each day? Do you realize that it may not be so much of a waiting for Jesus to come to us but a time for us to go to Him, He's waiting for us. There is a lot to think about during this Advent time, what choice will you make to help deepen your relationship with Emmanuel 'God with us'?
Someone suggested to me during this time of prayer to pick seven people and to pray for them on their special day each week. I have decided to do that. How about you? How will you prepare to encounter Jesus in the people you meet?
Till next week,
Sister Theresita
To read past Wednesday Reflections and catch up on other Nazareth news, please visit News & Events on our website.