Walking in solidarity with our immigrant brothers and sisters
December 18, 2018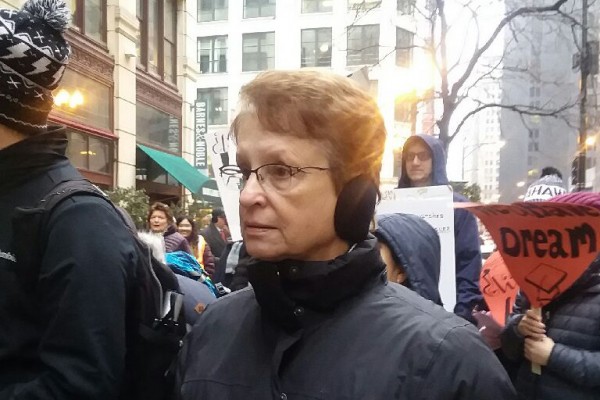 Amid dense fog on a drizzly and chilly Chicago morning, Sr. Catherine Fedewa, CSFN, and Sr. Rebecca Sullivan, CSFN, joined with many others for the Archdiocese of Chicago's 13th Annual Posada. The Archdiocese's Office of Human Dignity and Solidarity-Immigration Ministry sponsors this one-mile pilgrimage. The Posada symbolizes Mary and Joseph's journey to Bethlehem as they traveled from place to place seeking rest and shelter.
Members of Priests for Justice for Immigrants and Sisters and Brothers of Immigrants joined with community members and representatives of the Archdiocese's parishes and schools to walk and pray with immigrants who, like Mary and Joseph, are seeking shelter and protection from turmoil but often face rejection.
Beginning at 7 a.m. on Friday, December 14, outside the U.S. Citizenship and Immigration Services Center in Chicago, the group walked to the Metropolitan Correctional Center, DePaul University, Federal Plaza and St. Peter Church. Each stop included special prayers, songs and reflection.
"The Posada tradition celebrates the importance of hospitality and welcoming others with joyful hearts, especially our immigrant brothers and sisters fleeing persecution and danger in their homelands," said Cardinal Blase J. Cupich, Archbishop of Chicago, on the Archdiocese's website. "In anticipation of Jesus' birth, let us open our doors and hearts to the stranger and refugee seeking protection and acceptance just as the Holy Family once did."
For Sr. Catherine, being among so many individuals who are struggling to change the immigration system was an affirmation of what she has been called to do. "So many good people who are trying to find safety and freedom are in the same straits Joseph and Mary were 2,000 years ago. How have we changed and grown?"
Since May 2005, the Archdiocese of Chicago with its bishops, priests and religious congregations has been a voice for immigrants through the Catholic Campaign for Immigration Reform. The Campaign was established by the U.S. Conference of Catholic Bishops to educate Catholics and the public about the need for comprehensive immigration reform and to influence legislation for a permanent and fair solution to immigration issues in this country.
We invite you to join us, beginning December 21, in praying the Holy Family Novena for all our brothers and sisters throughout the world. The Novena is available in English, Polish and Spanish at Holy Family Novena.