Dec. 19: Wednesday Reflection
December 19, 2018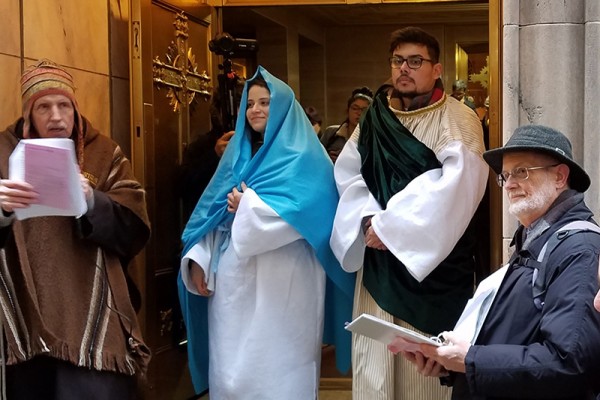 Dear Friends,
Well, can you believe it? Next week at this time Christmas 2018 will have come and gone. The time just keeps on flying by. So what will your life be like these last few days? I am sure there will be parties, last minute shopping, perhaps trips to the airport, and last minute meal preparation along with gift wrapping. There may be a lot going on that may distract us from what we are about to celebrate.
I saw and saved a quote I saw on Facebook recently. It goes like this: "Each one of us is an innkeeper who decides if there is room for Jesus" (Neal A. Maxwell). This year for the first time in a long time, I went to do some shopping for things I needed for Christmas. Wow, now I remember why I don't go to stores during the holiday rush! The best and worst of humanity appears.
But it made me go even deeper into the quote and ask is there room for Jesus? And who is Jesus for me, you and everyone? It may be hard to remember that he is the coworker that I meet in the hallway, the person waiting in line with me, and an immigrant hoping that he or she will be able to celebrate Christmas with family. Perhaps Jesus is an elderly person who is alone for the holiday. Will I let him in?
Jesus comes to us in so many ways. I fear that many of us decide that there is no room for him. Each of us may hear that knock in our heart to let him in and yet the business of the days or the selfishness of our ways may keep us from hearing that knock. I want to be able to say that there is room in the Inn. So, what can I do? Take some time for prayer; be patient with those we meet along our daily journey; be kind when it seems almost impossible -- these will help us prepare the Inn and hear the knock.
There is still almost a week left in Advent for us to see how we can prepare the way for Jesus and welcome him with open arms. Will you be able to greet him with a warm welcome and say, "We have room for you"?
May you have a blessed Christmas and be able to appreciate the gift that this season offers.
Till next week,
Sister Theresita
P.S. On Sunday, December 30th, we will celebrate the feast of the Holy Family. I invite you to join us in praying our Holy Family Novena beginning on December 21st as we pray for your family as well as other family situations. The Novena is available on our website in English, Polish and Spanish at nazarethcsfn.org/prayer/holy-family-novena. New this year: Watch and listen to our sisters read each day of the Novena by visiting Holy Family Novena – Videos on our website.
Photo from the Archdiocese of Chicago Posada held on Friday, December 14. Photo taken by Sr. Rebecca Sullivan, CSFN, who attended the event along with Sr. Catherine Fedewa, CSFN.