Sr. Josephine shares her conversion story with WNYC Studios' podcast
December 21, 2018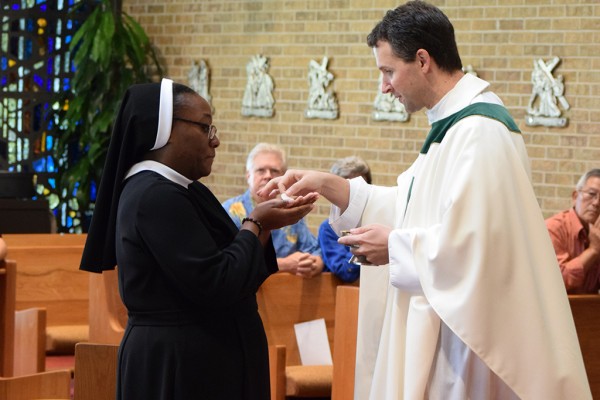 In March, we were contacted by a senior producer from WNYC Studios, a listener-supported radio station broadcasting from New York City. The producer was requesting an interview with Sr. Josephine Garrett for the podcast Death, Sex & Money. She had come across an article featuring Sr. Josephine and thought her story was "interesting."
The podcast's name, however, almost caused us to decline the interview. Like with any interview request we receive, though, we looked closely at the reasons for the request and the angles the interviewer might take during the interview. We also considered the audience, tone, and direction of the show along with the values and mission of WNYC and New York Public Radio.
After prayerful consideration, we determined that an interview in this format had the potential to plant seeds with an audience we may not traditionally reach. As an inspirational and effective communicator who has a gift for sharing her compelling story, we were confident Sr. Josephine could use this interview platform to share the mission of Jesus Christ as it is continued in the traditions of the Sisters of the Holy Family of Nazareth.
As you listen to Sr. Josephine share her story of conversion from Baptist banker to Catholic Sister, please remember that the interview and our sharing of the interview in no way is intended as an endorsement of WNYC Studios, New York Public Radio, the podcast, or the programing offered by any of these entities. Sr. Josephine's interview, rather, is an opportunity to share Nazareth joy outside of our usual comfort zone and to continue to create communities of love and hope which celebrate the oneness of the human family.
Though the podcast's host didn't have a lot of prior knowledge of Catholicism and religious life, Sr. Josephine believes the producers, editors and host did a great job. "We spoke for two hours and they seem to have lifted out a clear message from all of that recording... one that's respectful of religious life and the Church," she said.
Thank you to podcast host, Anna Sale, for her warmth and respect for religious life, for sharing this story with her audience and for helping us to make new friends of Nazareth.
WNYC reaches 1.1 million listeners each week. The podcast was named the best podcast of the year in 2015 by New York Magazine and in 2014 by iTunes.
Listen to Sr. Josephine's interview below.