Unlocking missionary discipleship
January 4, 2019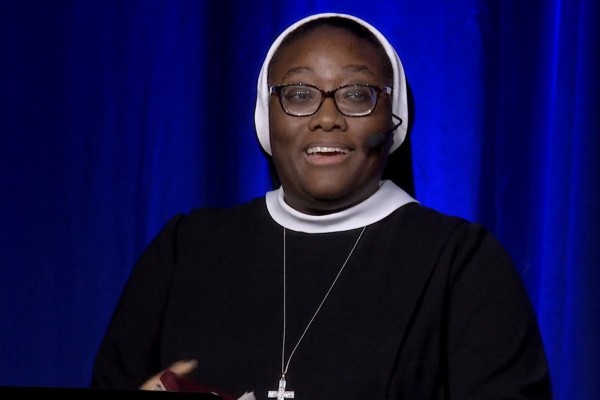 At the December 2018 National Conference on Catholic Youth Ministers (NCCYM) in Tampa, FL, Sr. Josephine Garrett, CSFN, shared her thoughts on missionary discipleship with those who serve young people in the Church, helping them to "unlock" what the phrase really means. ("Unlock" was the theme of this year's conference.)
"There are phrases that emerge in our Church…" said Sr. Josephine, citing things like "mysticism of encounter" and "accompaniment." She went on to explain how we may not take the time to understand the depth of their meaning. "We have to figure them out. It's like cracking the code."
Reflecting on her personal struggles, Sr. Josephine guided the audience into a deeper encounter with missionary discipleship as she shared stories about her battle to try to succeed professionally by her own strength and about her encounter with her birth mother.
She also cited Pope Francis' 2013 encyclical, Evangelii Gaudium, in which he writes,
God's word is unpredictable in its power. The Gospel speaks of a seed which, once sown, grows by itself, even as the farmer sleeps (Mk 4:26-29). The Church has to accept this unruly freedom of the word, which accomplishes what it wills in ways that surpass our calculations and ways of thinking.
Talking about her own experiences with "the unruly freedom of the word," Sr. Josephine told of prayers shared with women in the midst of the messiness and awkwardness of ordinary life.
"Sometimes we don't want to be what we are…," she told the audience. "We struggle to share our gifts in simplicity… We struggle with the smallness we are called to." Those small gifts may be a simple, quiet prayer with someone when we are least prepared.
Sr. Josephine concluded her keynote presentation with a song by Douglas Miller, "My Soul has been Anchored in the Lord," which began with the lines "Though the storms keep on raging in my life… / I know He'll lead me safely to that blessed place He has prepared."
Watch Sr. Josephine's presentation below. An audio presentation of one of her talks during the breakout session at the conference is also available. To obtain audio and video copies of the NCCYM talks, on DVD, CD, USB and MP3 download, please visit: gotruth.com/nccym.
:
* * *
Sr. Josephine converted to Catholicism in 2005 and entered the Sisters of the Holy Family of Nazareth in 2012. She professed her first vows in 2015. She holds a BA in Politics from the University of Dallas and is pursuing a master's degree in clinical mental health counseling.