Jan 16: Wednesday Reflection
January 16, 2019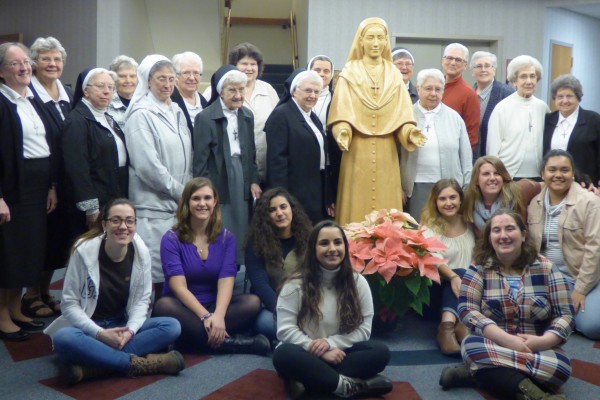 Dear Friends,
I recently returned from Chicago where I spent the week with a group of students from Allegheny College's Newman Association. In this day and age where many people see service to another as an obligation and not an opportunity, I was proud to be with this wonder- and faith-filled group.
Many people have difficulty giving up their time for another, whereas this group gives up their last week of winter break to come to the Chicago area and be of service. When I asked them why they do it, the response centered on the fact that they wanted to reset their lives before they began the next semester. They wanted to put things in the proper perspective. It also gives them time to pray and be with our sisters so they can share their hopes, dreams, challenges and laughs. I could hear it being said over and over: "It is good to be with the sisters." And our sisters were saying, "We are so glad you come to be with us."
All of this goodness and self-sacrifice helps to fill the world with hope. The tasks that the students accomplished were perhaps not monumental in the eyes of the world, but I'll tell you, in the eyes of those they served, the work was huge. There was a tremendous amount of gratitude, joy and hope in the students' eyes and in the eyes of those they helped.
It made me wonder what would happen if we took a hard look at each of the times we were called to serve another. Did we help in a gracious way? Are we willing to give up our own time to help another when we would rather be doing something for ourselves? What are our attitudes toward service? I ask these questions because I, too, need to remember that giving of self for another is exactly what Jesus did. If I am his follower, shouldn't I follow his example? (Without grumbling, of course.)
During this next week, take a look at how many opportunities you have to give of yourself and to give hope to another. It is often the small things that can have a big impact on ourselves and others. Keep your eyes and heart open to see what God has in store for you this week.
Till next week,
Sister Theresita
P.S. If you're interested in short- or long-term volunteer opportunties with the Sisters of the Holy Family of Nazareth, check out our Service Corps page.
Photo of this year's volunteer group with our sisters.