Remembering the beatification of our Blessed Martyrs of Nowogródek
February 20, 2019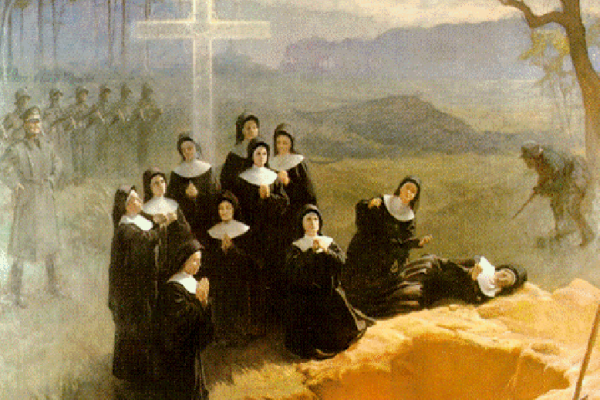 March 5 marks the anniversary of the beatification of Blessed M. Stella and her Ten Companions by St. Pope John Paul II in 2000. In honor of the beatification, we invite you to read the reflection below written by Sr. Therese Marie Czarny, CSFN, in 2010.
To learn more about Blessed M. Stella and her Ten Companions, please visit our Blessed Martyrs of Nowogródek page and watch the video The Blessed Sisters of Nowogródek presented by Sr. Mary Bernard Wiecezak, CSFN.
Blessed M. Stella and her Ten Companions' feast is celebrated on September 4.
Beatification March 5, 2000
by Sr. Therese Marie Czarny CSFN
The feast of St. Peter in Chains, August 1, 1943, will be remembered as the day the people of Nowogródek experienced deep silence, profound emptiness, and observed the crimson redness of the skies above; totally unaware that 11 sacred lives had been tortured by the Nazis in the early hours of that Sunday morning.
The morning of July 31, 1943, Sr. Ma?gorzata arrived home from her job at the hospital and found Sr. Stella and her Companions kneeling before the Blessed Sacrament. The sisters renewed their vows, wept silently, and heard Sr. Canisia say: "We must go to the end…" Only Sr. Ma?gorzata was to remain in hiding alone, and never to leave her Nazareth home. For some time, with the aid of a discreet housewife, she remained secluded until she was able to return to her position in the hospital. Days passed into weeks, when she was informed that the bodies of her companions lie buried in the forest of Nowogródek. Evidence of this was quite clear when Sr. Ma?gorzata investigated the ground and discovered some of the clothing of the sisters: a piece of habit material, a shoe, a stocking, and a name tag belonging to Sr. Sergia. With deep love and affection, Sr. Ma?gorzata embraced these treasures and clutched them close to her heart. Sr. Ma?gorzata safeguarded and tended to their grave site with deep devotion.
Sr. Ma?gorzata died on April 26, 1966, the feast of Our Lady of Good Counsel. How appropriate that she nurtured the faith and counseled the people of Nowogródek.
* * *
The prayer through the intercession of the Nowogródek Martyrs and through the intercession Sr. Malgorzata Banas is available on our Prayer page.