A place called home
February 21, 2019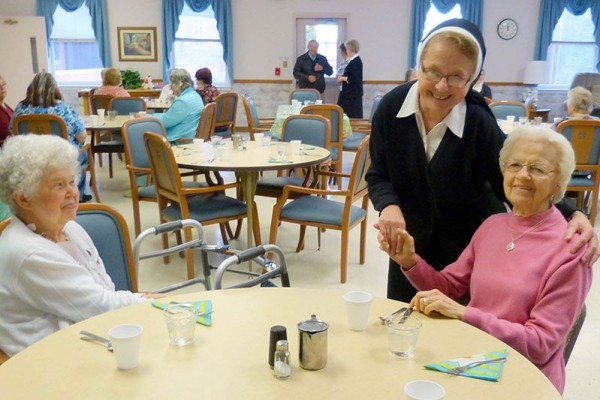 by Sr. Cynthia Meyer, CSFN
St. Leonard's Home is a personal care home for the elderly located in the beautiful hills of central Pennsylvania. It is a wonderful old Victorian mansion that was built in 1901 for the Duncan family of Hollidaysburg. The Sisters of the Holy Family of Nazareth have administered the home since it opened in January of 1947.
HOME is the most important part of our name. In all the services that we offer, our emphasis is on providing a supportive environment for the residents, a place that has the best of what home and family can offer.
Because of our relatively small size, we are deliberately non-institutional. The staff treats the residents like members of their extended family. Although we monitor the physical and mental health of the residents, we do not look or act like a health care facility. This is the residents' HOME, and we strive in every way possible to create a family atmosphere that is nurturing and life-giving. We make home-cooked meals from scratch and have common meals, which evokes memories of by-gone days when our residents were homemakers and the hearts of their own families.
We offer that extra set of eyes to oversee the residents' needs on a daily basis so that their families can rest assured that their loved one is safe and well cared for. Our family perspective ensures that anyone who cares about a resident is part of our umbrella of concern also. Often family members stop in to chat about personal concerns, and find a safe place to unburden themselves. We offer solace, friendship, a sense of being cared for and belonging to one and all.
Creating those kinds of loving relationships, with an emphasis on attentive listening, sets us apart from other, more functionally oriented facilities. People know that St. Leonard's Home is a faith based community where all are welcome.
Our mission, the mission of Jesus: to reveal the Kingdom of God among us, is alive and well at St. Leonard's Home. We strive daily to create a community of love and hope among those whom society often overlooks. It is a grace and a privilege to be an incarnation of the mission as it is truly alive at St. Leonard's Home.
* * *
To learn more about St. Leonard's Home, a sponsored ministry of the Sisters of the Holy Family of Nazareth, please visit http://www.stleonardshome.org/.
Sr. Cynthia (Cindy) Meyer entered the Sisters of the Holy Family of Nazareth (CSFN) in 1962. Since 2007, she has served as executive director of St. Leonard's Home. From 2002-07, she was the provincial superior of the CSFNs' former St. Joseph Province, Pittsburgh. From 1992 – 2001, Sr. Cindy also helped organize and administer Nazareth Housing Services in Pittsburgh, which continues to assist families and seniors in obtaining or preserving home ownership.