Mother Foundress: Disciple of Hope
March 19, 2019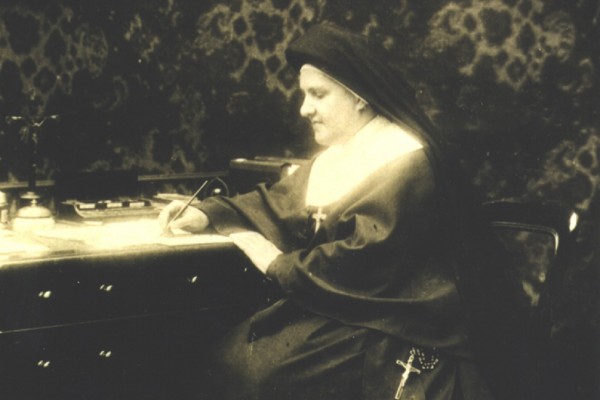 by Sr. Michele Vincent Fisher, CSFN
Editor's note: In October 2018, Sr. Michele Vincent Fisher, CSFN, shared this reflection with our Associates of the Holy Family. At the end of this piece, are questions, prepared by Sr. Michele, to draw you deeper into reflecting on what hope means for you.
What is hope?
Hope is a curly red-haired little orphan singing, "The sun'll come out…tomorrow! Bet your bottom dollar that tomorrow…there'll be sun…"[i] Hope is a caterpillar that asks: "How do I become a butterfly?" And a butterfly who responds saying: "When you want to fly so much that you're willing to give up being a caterpillar!"[ii] Wikipedia tells us that hope is an "optimistic state of mind based on an expectation of positive outcomes" and Merriam Webster tells us that hope means "to cherish a desire with anticipation: to want something to happen or be true." Scripture tells us that hope is "a strong and confident expectation; a trust in what is yet unseen."
A frail little girl kneels below a large picture of the Czarna Madonna (Our Lady of Czestochowa) and looking confidently at Our Lady she cries: "Be my Mother!"[iii] Young Frances Siedliska, thinking that her own mother is close to death, makes an act of hope and entrusts herself to the Mother of God, confident that her heartfelt prayer will be answered. Anyone who asks, receives!
Surely, you can look at the context of your own life and recall a time when you made your own act of hope – as you birthed a child or watched a beloved parent, friend or spouse take their final breath; as you sat on your living room couch waiting for your teenager when he or she missed curfew; as you stood in line at the unemployment office or waited anxiously in the doctor's office for test results. While hope often comes in the midst of trouble and suffering, it also comes in moments of joy and peace -- the first rays of the sunrise, a baby's first steps, a conversation where someone really listened, the smell of freshly baked bread or brewed coffee or snowflakes gently accumulating on your windowsill. Hope is so powerful and yet so elusive!
What can be said of Blessed Mary of Jesus the Good Shepherd, our beloved Foundress, whose entire life seemed to be one great act of hope after another? In her own words, she states: "Follow Jesus, seek Him, contemplate Him, ask Him for all you need: then – expect, believe and hope. Love Him ever more. Live for Him, work for Him, and implore Him to live and act in you. This is really living your life to the full! Affirm over and over again your dedication to Him…Only interior union with Him and true abandonment to His will alone can bring you peace, happiness, fulfillment and all. (Letter 34 to Mother Raphael, January 1884). [iv]
Hope is never a static or passive thing -- it is active, dynamic, directive and life sustaining. It doesn't leave us idle or drifting or directionless. Hope does not disappoint, but it puts us on the path of life and it yields results for those who are ready to risk.
Hope changes how we see ourselves
From the time Mother Foundress was a child, she recognized a certain sadness in her soul. While materially, she had the benefits of wealth and societal privilege, she remained unfulfilled, incomplete. The day the brown-robed Capuchin monk, Father Leander, paid an unexpected visit to her family home, hope walked through the door and into her restless heart. "Would you like to learn how to love Jesus?"[v] The question was seared into her heart and ignited a flame that would last her entire life. From that moment on, Jesus was her one and only desire and his holy will her only aim. Upon receiving Jesus for the first time in Holy Communion, young Frances made sure that her heart would forever be the abode of this dear Guest of her soul.
Frances saw herself in all of her weakness, temptation and misery and she worried about offending Jesus, concerned that he might leave her soul. In her confessions, she didn't seem to mention fear of the fires of hell or punishments, only fear about offending the God who gave his entire life for her and who took up residence in her soul in spite of all her sinful ways. The loss of his love would be the greatest tragedy of her life. Even though for many years she struggled to understand the fullness of God's love, hope helped her to come to believe that in the mind of God, she was the object of his love and mercy. Hope taught her to entrust her whole self to the Divine Mercy of God. It took an act of hope for Mother to finally say: "It is futile to dwell on one's misery and spiritual poverty, rather, one needs to strive for love and perfection in spite of them."[vi]
HOPE changes what we value
The gospel of Matthew proclaims: "Do not lay up for yourselves treasures upon earth, where moth and rust destroy, and where thieves break in and steal. "But lay up for yourselves treasures in heaven, where neither moth nor rust destroys, and where thieves do not break in or steal; for where your treasure is, there will your heart be also." Matthew 6:19-21
As Mother Foundress grew in her relationship with Jesus, she renounced her wealth and worldly allurements. During this time of great trial in her life, she tried to make it clear that she was not rejecting the love of her family nor did she attempt to persuade them to adopt her ways. Even when members of her family, especially her own father, persecuted her and referred to her as a "religious fanatic" or "overly scrupulous," she always defended her love and respect for them. [vii] Often, when we hear the word "renounce" we equate it to the word "reject." Renounce is to re-announce -- to see and experience something in a new light. What young Frances was doing was holding up her life in light of her deepening relationship with Jesus and re-announcing what was of greater value to her. This, of course, did not happen instantly or overnight. Her efforts were clumsy at times and embroiled her in many a family argument or reduced her to painful tears and even physical illness and suffering. Many trips to the confessional resulted in renewed efforts to understand her changing values and the prominent place of her relationship with Jesus above and beyond all else in her life. Hope encouraged her to stay the course, to live into the mystery of her call, even when the path ahead of her was dark and filled with obstacles.
Hope affects what we do with our lives – our time, talent and treasures
The Christian life, if it is grasped according to God's truth, is a magnificent obsession with an eternal hope, a hope that does not lead to an escapist attitude, but to the pursuit of life on a whole new dimension. We measure the potential of this life as stewards of God. It gives us power to live courageously, to be all God has called us to be in Christ. Blessed Mary of Jesus the Good Shepherd spent her adolescence and young adult years developing her interior life. Through times of lengthy and serious illness which caused her family to relocate to places throughout Europe in search of a more suitable environment, Mother Foundress stayed faithful to her commitment to love Jesus and to seek His will for her life. It was nothing out of the ordinary, yet God was performing the extraordinary in her soul, preparing her for what would become her life's mission. At the age of thirty-two, Frances Siedliska allowed this ever-growing hope to come to fruition and she became not only a vowed religious, but set out on a path to found a new religious congregation. She did not do this of her own will, but always under the direction of those that God placed on her path to manifest his will. She placed this new creation at the feet of the Vicar of Christ and would proceed only with the Church's support and affirmation. Mother presents herself honestly and unequivocally. She recognizes God's action of grace and loves all the more humbly and ardently. With the great Saint Paul in his letter to the Romans, surely Mother foundress could proclaim: "Hope does not put us to shame, because God's love has been poured out into our hearts through the Holy Spirit, who has been given to us." (Romans 5:5)
Instead of taking the path of personal devotion and interior holiness, Mother Foundress' entire life becomes a public manifestation of the work of grace in her soul, and through her full gift of self to God, the Church and the world are enriched with the spirit of Nazareth.
Certainly, you and I are not necessarily called to such a large-scale project, but nonetheless, each of us is called to radical conversion. Radical means "from the root." If we are faithful to the invitation of God to entrust our entire life to Him, then each of us, in our own way, leaves an indelible mark on the world around us. Imagine if we could see for just a fleeting moment the impact of our daily choices and actions on the world around us. What would we see?
Hope impacts relationships
One of the greatest struggles we face today is the ability to have healthy, sustainable and life-giving relationships. Mother Foundress herself, although materially wealthy, struggled with a mother who was emotionally distant and physically ill most of her life, having to relate to various governesses and teachers who came to reside with the family and having to deal with the anger and frustration of her father who rejected her religiosity and couldn't understand her rejection of all that society could have afforded her. Childhood friends were few. When given the opportunity to befriend Jesus, love began to blossom in her heart. Placing her hope in the Lord, Frances learned how to see and love others through the lens of Christ. In her own words she states: "The affection we entertain for one another must have its foundation in God and must lead to an ever greater and deeper union with Him."[viii] (Letter 1 to Mother Gabriel, 1877). With this premise guiding her relationships, she was able to give fully of herself while at the same time maintaining places in her heart that were for God alone. Like our Blessed Mother, her heart was pierced with many sorrows, but she pondered these things in her heart and shared them only with her confessor or spiritual director. She knew how to set clear boundaries yet still enjoy deep relationships. Mother Foundress had no need to manipulate or control others or to persuade them to need her. She was free to enjoy each person for who they were. Her advice?
"Do not try to appear masterful before the Lord, but aim to be a child of His love. Argue less, analyze less; love more, love ardently; rather, pray for the gift of love." (Letter 15 to Mother Joanne 1881)[ix]
"Strive for peace, meekness and also forbearance with oneself and others; not a forbearance that justifies wrongdoing, but a gentleness that is serene and humble. Instead of being angered by detecting another's or one's own faults, let your soul not be perplexed, but turn to the Lord with deep humility, apologize, acknowledge your failures and proceed hopefully, cheerfully, starting each day anew. It is a recognized secret of the spiritual life to be able to convert one's failures to the soul's advantage, namely to humble oneself positively, radically, within the very depths of the soul. The Lord loves such souls, and in His incomprehensible love, he accepts their childlike trust, simplicity and love."[x]
The blessings of hope
Living in hope is a tall order! The great Saint Augustine tells us that "Hope has two beautiful daughters; their names are Anger and Courage. Anger at the way things are, and Courage to see that things do not remain as they are."[xi] Blessed Mary of Jesus the Good Shepherd possessed this kind of hope – a hope that engenders courage, a hope that can work past the anger and frustration of present realities, and a hope that transforms from within. The blessing of this kind of hope produces joy and peace in the midst of swirling chaos and uncertainty. It offers protection under God's watchful eye and sheltering wing when we turn to him in trust. It engenders strength, courage, and boldness in the face of fear and doubt. It gives us confidence in the ministry we are called to perform and ultimately it gives us comfort and confidence in the face of death. Mother Foundress lived this kind of hope and encourages us to embrace life with this same Gospel hope.
"And the day came when the risk to remain the same was greater than the risk to change…it is after all the only hope for the cocoon to become a butterfly!"[xii]
Questions For Reflection and Sharing
What do you dwell on in the depths of your heart?
What causes unrest within your spirit?
What do you need to turn over to the infinite Mercy of God?
How does hope help you to see yourself and your life differently?
Have you ever renounced ("re-announced") something in your life -- a relationship, a way of thinking or acting, a pattern of behaving, or an attachment to things?
What did it cost you, personally? How did it affect your personal freedom?
How did it give you hope and draw you more deeply into God's love?
Can you identify in your own life something which has shifted within you as you look at your choices, behaviors, decisions and activities in light of the "eternal" and not only this passing world?
What would you like to do differently?
Consider your most significant and impactful relationships. What sustains these relationships? What tests or jeopardizes them?
Where is Christ in your relationships?
What do you need to mend?
What is the risk you are being called to take today? Is it a leap of faith or just a few baby steps in the right direction?
Where is God in the midst of this call?
What is the next "right thing" you need to do?
What hope do you hold onto as you look toward the future?
[i]McArdle, A. (1977). "Tomorrow." Theme song from the musical "Annie."
[ii] Paulus, Trina (1972) "Hope for the Flowers" Paulist Fathers.
[iii] Siedliska, Frances (Mother Mary of Jesus the God Shepherd) (1997) "Blessed Mary of Jesus the Good Shepherd: An Autobiography" Sisters of the Holy Family of Nazareth, Pittsburgh, PA.
[iv] Siedliska, Frances (Mother Mary of Jesus the Good Shepherd) (1976) "Counsels from the Heart: Extracts from the Intimate Letters of Spiritual Guidance and Religious Formation" Sisters of the Holy Family of Nazareth. Rome, Italy.
[v] Ibid.
[vi] Winowska, Maria (2000) "Journey of The Soul of Frances Siedliska, Foundress of the Sisters of the Holy Family of Nazareth."
[vii] Siedliska, Frances (Mother Mary of Jesus the God Shepherd) (1997) "Blessed Mary of Jesus the Good Shepherd: An Autobiography" Sisters of the Holy Family of Nazareth, Pittsburgh, PA.
[viii] Siedliska, Frances (Mother Mary of Jesus the Good Shepherd) (1976) "Counsels from the Heart: Extracts from the Intimate Letters of Spiritual Guidance and Religious Formation" Sisters of the Holy Family of Nazareth. Rome, Italy.
[ix] Ibid.
[x] Ibid.
[xi] Saint Augustine of Hippo.
[xii] Paulus, Trina (1972) "Hope for the Flowers" Paulist Fathers.