April 17: Wednesday Reflection
April 17, 2019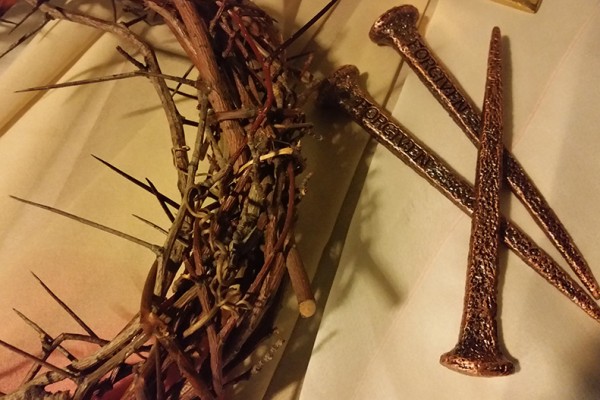 Dear Friends,
We are about to enter into the holiest of our seasons – our Paschal Triduum. My prayer is that with all our busy schedules we take the time to reflect on the mysteries of these next three days. This is what we are all about -- dying and rising, and bringing life to those around us. Please put aside all your unnecessary tasks and focus on the love Jesus has for us.
Several years ago, I was with the students at Loyola University doing a Busy Person's Retreat. In preparation of the upcoming Holy Week, we discussed the Sacred Triduum. One of my students had recently arrived from Brazil. English was a challenge for her. She could not understand what I was saying about Good Friday. With the help of a computer translation, I discovered that in Portuguese, they would say "sexta-feira da paixao." Without getting too technical, the translation would be "fall in love Friday."
WOW! What a way to express the love Jesus has for us. The student and I actually sat for a few moments in silence as I let it all sink in. Jesus stretched out his arms for us and said, "I LOVE you this much," then died. Each year, month, week, day, hour, minute, Jesus continues to fall in love with us.
I want to spend time with this thought these days, and invite you to do the same, because if you and I truly lived this, then it would be so much easier to accept the challenges that come our way. It is our heart that tells us of Jesus' love, not our eyes or ears. We can be fooled by what people do or say. Yet, it is in the depth of our heart that we know the truth. And, that truth is that God falls in love with us every minute of our lives and would not let anything happen to us that would not help us to grow to be our best. In the Sisters of the Holy Family of Nazareth, we take, at the time of perpetual profession, a sacred mystery to add to our religious name. I took Sister Mary Theresita of Crucified Love. So, on each Good Friday I pray to understand more deeply the depth of that mystery.
"Fall in love Friday" is followed by Easter. But, from now till Easter, and for all the days of the year, I would like to fall in love again and again with Jesus.
May your week be filled with quiet gratitude for the love Jesus has for you. Remember that the plans God has for you are only plans for the good despite challenges that may come your way.
Till next week, may your Easter be filled with joy and peace,
Sister Theresita