Blessed Martyred Sisters of Nowogrodek: a reflection
April 17, 2019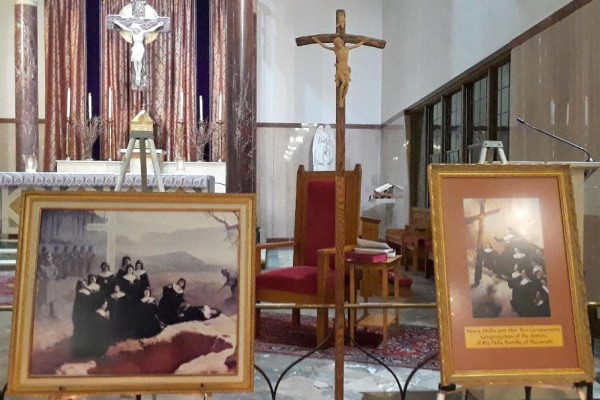 By Sr. Mary Bernard Wiecezak, CSFN
Editor's note: Sr. Mary Bernard Wiecezak recently was invited to speak at St. Katherine of Siena Church in Philadelphia for their annual Days of Grace program. Over the course of three evenings, guest speakers shared stories about the "saints in our midst," the theme of this year's event. The following is a reflection Sr. Mary Bernard wrote after her presentation about Blessed Mary Stella and her 10 companions on March 25.
I have always had a great interest in the story of our beloved Martyred Sisters of Nowogrodek. During my years in community, I had wanted to know more about their story but never really took the time to do the research. A wonderful opportunity presented itself recently when an invitation came from Msgr. Paul M. Kennedy, pastor of St. Katherine of Siena Parish in Philadelphia, PA. I was asked to present the story of our Martyred Sisters at a Lenten program entitled "Days of Grace" on March 25.
On July 31, 1993, I was fortunate to be living at our Generalate in Rome. We Sisters had planned to participate in an all-night vigil marking the 50th anniversary of the martyrdom of our eleven Sisters. The timing could not have been more significant since it was observed on the exact days of the week of the actual event, Saturday night into Sunday. I entered into the story by slowly reading the book by Maria Starzynska entitled Eleven Prie-Dieux. Hour by hour, I relived the night of terror that our beloved Sisters endured under the Nazi Gestapos. The horror of that night became more real to me than ever before.
A large, white birch cross had been placed in the chapel sanctuary surrounded by vines. Eleven red vigils were inserted among the vines and set to burn during the night. While not fully spent, and as the sun came up on the morning of August 1, 1993, I watched in awe as each vigil light slowly extinguished itself in the sanctuary. To me it was a sign for rejoicing, knowing our Sisters had truly entered their eternal reward.
With the opportunity to make known our Martyred Sisters of Nowogrodek to the people of St. Katherine of Siena Parish, I began in earnest to read all I could find. My goal however was to learn more about Sister Malgorzata, the twelfth Sister who was responsible for locating the gravesite in the forest where the Sisters had been buried. A second book entitled Designation and Choice by Barbara Gromada proved to be invaluable. Herein I learned facts about Sr. Malgorzata's life during the twenty plus years wherein she ministered to the people of Nowogrodek under excruciating circumstances until the time of her death in 1966.
March 25, 2019 was truly a "Day of Grace" for me at St. Katherine of Siena Parish. I presented a love story to the parishioners and to more than thirty local sisters who attended that evening. I experienced the prayerful support of our Congregation in a manner I can never fully describe. My gratitude is expressed to Sr. Kathleen Maciej, our Provincial Superior, Sr. Mary Ellen Gemmell, Provincial Secretary, and to Msgr. Paul M. Kennedy for providing me with the opportunity to share a story dear to my heart. We pray that one day soon all twelve Sisters will be canonized as saints.
Photo: From St. Katherine of Siena Church in Philadelphia showing the display Sr. Mary Bernard set up for her presentation.