Gospel Reflection: April 21, 2019 – Easter Sunday
April 21, 2019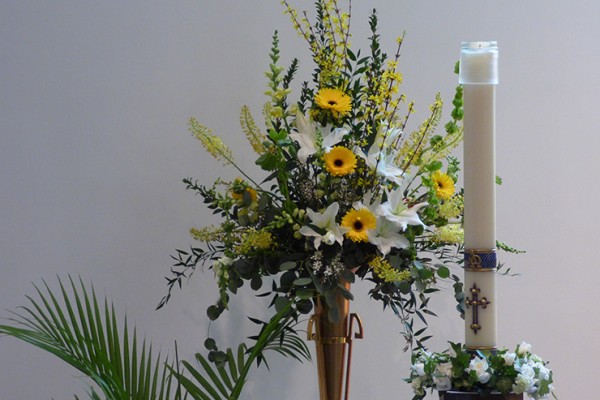 John 20:1-9
CHRIST IS RISEN! INDEED HE IS RISEN, ALLELUIA!
Today we celebrate the Resurrection of Jesus the Christ throughout all Christendom. It is a day of rejoicing – of Alleluias, joy, love, peace within and of hope.
The day after Palm Sunday, the world witnessed, the devastation of an iconic landmark: the burning of the Notre Dame cathedral. Almost immediately the various media told their viewers that the Cathedral was burnt to the ground. It would seem that all was lost. It would seem.
Strange as it may be, there is much symbolism to be seen in this tragedy. For days following this sad happening, television consistently showed viewers inside the Chapel a suspended Cross that was untouched by the fire, midst the heaps of rubble.
To Christians, the Cross/crucifix is always a sign of Hope. Hope for a better life now and in eternity. When the Apostles entered the tomb where Jesus was buried, they found it empty with only the neatly folded cloths set aside. The Body of Jesus was not there; "He is not here! He is risen, just like He said." (Matthew 28:6).
There is a difference between a cross and a crucifix. The Cross has two beams without a corpus; the crucifix has the corpus of Jesus. The tomb was empty; the cross in Notre Dame Cathedral had no corpus. Jesus has risen; indeed He has risen.
It has been said that the custom of folding one's napkin after eating dinner may mean the person intends to return. A sign the Resurrection of Jesus and His return for 40 days with the Apostles giving them courage, hope and strong belief in life everlasting.
Significantly, a picture of the Cathedral in its dark, charred state with the Rose window very bright centered against its dark outline and intact may symbolize for Christians, the dark tomb for three days and the Light of Christ shining forth when He was resurrected a deep sign of Hope for us all. Christ is risen! He is among us and we have hope indeed!
A radio talk show last week mentioned that France was one of the first countries of Europe that became Catholic. Today, the talk show host said, that most of Europe is not. Perhaps what happened to this iconic landmark, Notre Dame, which it seems from so many reports during this past week, is cherished by the world, will not only have its symbolic meanings, but will have in reality the restoration of faith and hope in the people of God in Europe and the world. Christ is risen! He is here among us! Alleluia!
Sister Celeste Hupert, CSFN