May 8: Wednesday Reflection
May 8, 2019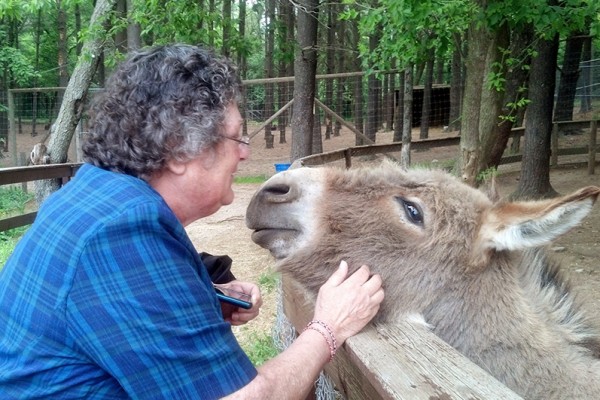 Dear Friends,
Have any of you ever been to a sheep farm? I have. Once as a young girl, I remember visiting my cousins in Andover, N.J. It was amazing to see all the sheep and believe me they only listen to the voice of their shepherd. I tried to get their attention but to no avail.
"The sheep hear his voice and follow him" (John 10:4). It made me think. Do I know and recognize the Shepherd's voice? If I do, then do I listen and follow? Have I heard the Shepherd say to me, "I have come so that you might have life and have it more abundantly" (John 10:10)? For us, it is right there in black and white.
No matter what my challenges are, I would have to say that I have an abundant life. But, do I realize it and give thanks for it? Or, do I want more? Having had some experience in Haiti, I must say that I learned sometimes less is more! I have seen people rejoice at receiving a pair of shoes or pants; a dress or shirt; some canned goods or a piece of candy. They are focusing on the abundance not the scarcity. And so, their smile is as broad as the side of a barn!
When I look at what I have in my life, do I see the abundance or do I have scarcity vision? Friends, I say it again that we have been blessed with abundance in our lives. The problem is that sometimes we forget to hear the words of the Shepherd: "I have come so that you may have life and have it more abundantly."
Spend some time this week listening and then listing ALL the abundance in your life, no matter what form it takes. I think you will find yourself in a much happier and positive place. If not, then try it for another week. Practice makes perfect!
On Sunday, we celebrate Mother's Day. If anyone understands sharing abundantly, it is a mom and all the mom-like figures. Let us pray for them – both the living and deceased -- and thank God for their presence in our life.
May you have an abundant week!
Till next week,
Sister Theresita
[Editor's Note: In our search to find a sheep photo to accompany this reflection, we stumbled on this photo of Sr. Theresita with a donkey. While it is not a sheep photo, we think the donkey is smiling from the abundance of love he's getting from Sr. T. And the photo is too cute not to share.]