The Catholic Foundation awards grant to CSFNs
May 20, 2019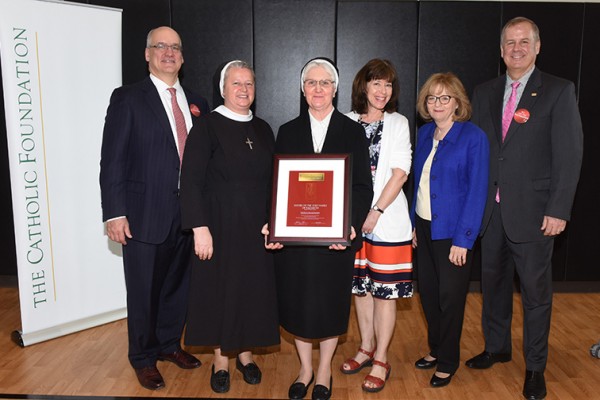 The Sisters of the Holy Family of Nazareth recently were among twenty-five North Texas churches, schools, and organizations to receive a grant from The Catholic Foundation during its annual spring grant ceremony at Holy Trinity Seminary in Irving, TX.
The grant will help fund the replacement of the fire alarm system at Jesus the Good Shepherd Convent in Grand Prairie, TX, the site of the Nazareth Retreat Center and home to several sisters. The current system was installed when the building was constructed in 1974 and has become obsolete.
On hand to receive the award were Sr. Rita Fanning, CSFN, business manager for Nazareth Retreat Center; Sr. Marietta Osinska, CSFN, superior for Jesus the Good Shepherd Convent; and, Katherine Barth, development director for the sisters.
Twice per year, The Catholic Foundation distributes community grants to local schools, parishes, and nonprofit organizations. Grant requests are reviewed by the Board of Trustees' Distribution Committee, followed by documented site visits through which the recipients and funding amounts are determined.
Chartered in 1955, The Catholic Foundation was founded by a group of dedicated Catholic lay people with a vision that extended far beyond the charitable needs of the moment. The Foundation has spent decades building a strong community, helping donors fulfill their charitable goals, and preserving the founders' vision and philanthropic legacy. Over time, the Foundation has provided more than $170 million in grants to religious, charitable, and educational organizations.
For information on other CSFN convent equipment needs, please read this letter from Sr. Kathleen Maciej, CSFN, provincial superior, and Katherine Barth, development director. To make a donation to help support our sisters, please visit the donate page on our website.
Pictured (l to r): Scott Moore, Catholic Foundation trustee and chair of the Development Committee; Sr. Marietta Osinska, CSFN; Sr. Rita Fanning, CSFN; Katherine Barth, director of development for the Sisters of the Holy Family of Nazareth; Kathy Hoover, Catholic Foundation trustee; Matt Kramer, president and CEO of The Catholic Foundation.