Sisters honored at NAHS Legacy Gala
May 23, 2019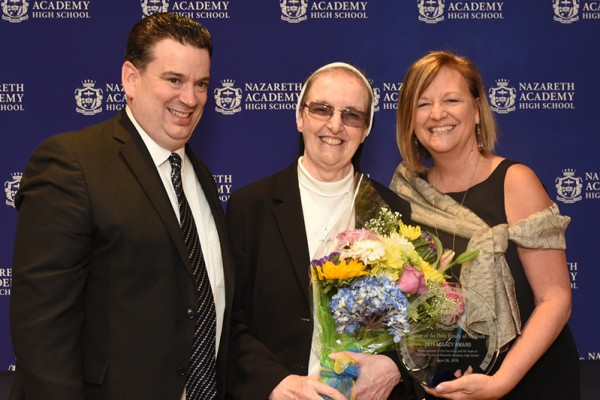 On April 26, Nazareth Academy High School (NAHS) in Philadelphia, a sponsored ministry of the Sisters of the Holy Family of Nazareth, honored our sisters at the high school's annual Legacy Gala. The event recognized our sisters for founding the school and for our 90 years of continuous service to the students and their families. Sr. Mary Ellen Gemmell, CSFN, provincial secretary, accepted the 2019 Legacy Award on behalf of the provincial council and all the Sisters of the Holy Family of Nazareth. The following is Sr. Mary Ellen's acceptance speech from the event.
"What return can I give to the Lord for all the good he has done for us?" These words, adapted from Psalm 115, come to my mind as I accept the honor given to us, the Sisters of the Holy Family of Nazareth, this evening at this Gala celebration of the 90th anniversary of Nazareth Academy High School. To Mrs. Denise LePera, President; to Mr. Jim Meredith, Principal; to the Board of Trustees and to MMI [Mission and Ministry, Inc.]; to the members of the faculty, the staff, the parents, the alumnae, and our students a heartfelt thank you.
It is an honor for me to express gratitude in the name of our Congregation. My mind goes back to Nazareth's history and every one of our sisters and their collaborators who brought this school to this present moment. Beginnings are always challenging, yet our sisters worked with "zeal for God's house that consumed them…" as did Jesus (John 2:17). Like Mary of Nazareth, each sister and our co-workers opened their hearts and minds to God's plan for our high school and trusted in the Father's Providence… come what may. Like Joseph, the silent worker, each sister utilized the tools available to strengthen the mission and move it forward. Let us pause for a moment of silence in gratitude for every sister -- living and deceased -- whose presence in Nazareth Academy High School has enkindled the flame of Catholic school values and wholistic growth.
Finally, let us honor those who carry on the mission this day. I wish to acknowledge all those who, at this time, serve at Nazareth Academy High School: Mrs. Denise LePera, President; Mr. Jim Meredith, Principal; Srs. Boguslawa, Jeanette, Mary, Teresa Mary, Angela and Nancy; the Board of Trustees; and MMI, the members of the faculty, the staff, all parents and alumnae. Please stand and accept our gratitude, our prayerful support, and our help as you carry on the mission to embrace faith, family and education…as you challenge each student to attain her full potential academically, spiritually, and personally. … as you focus on service to God and community, … as you provide a rigorous academic curriculum and varied extracurricular activities that inspire each student to achieve academic excellence and become a life-long learner in a global society [adapted from NAHS' mission statement].
In conclusion, I ask all NAHS students to stand. Thank you for your presence here tonight, for your love, your service, your industriousness in your studies and your willingness to carry out your mission as members of this wonderful school community. "You are the present," as Pope Francis has recently reminded us. You make Nazareth what it is by the values you live and you bring other young women to the school by your example, loving Nazareth "a million" while being a beacon to the world around you.
In the name of Sr. Kathleen Maciej, our provincial superior; Sr. Maria Magdalena, provincial counselor, present here; our Provincial Council; and, all the Sisters of the Holy Family of Nazareth, thank you Nazareth Academy High School for honoring our sisters at this gala celebration that highlights our mission begun more than 90 years ago after our dear foundress expressed that she would like to see "… a chapel in which adoration of the Blessed Sacrament is possible, a … place for retreat for young girls as well as an apostolate among the youth in Philadelphia." (from His Will Alone p. 300; Out of Nazareth p. 109; "Letters to Mother Loretta," February, 1900)
We thank the Lord for that moment and we thank him for THIS moment. May the Lord be praised! Thank you, Nazareth Academy High School.
God bless you.
* * *
Arriving in the U.S. in 1885, the Sisters of the Holy Family of Nazareth had expanded their ministry to South Philadelphia by 1891. In 1927, ground was broken on what was once the C. Wilmer Middleton estate in Torresdale, PA to begin construction on a new provincialate, novitiate, and high school for girls. Sr. M. Neomisia Rutkowska, CSFN, welcomed Nazareth Academy High School's first students in the fall of 1928. Today, the Sisters of the Holy Family of Nazareth continue to minister at NAHS, challenging young women to attain their "full potential academically, spiritually, and personally." To learn more about NAHS and its college preparatory program for young women, please visit nazarethacademyhs.org.