Philadelphia Native Elected New Superior General of Sisters of the Holy Family of Nazareth in Rome
July 12, 2019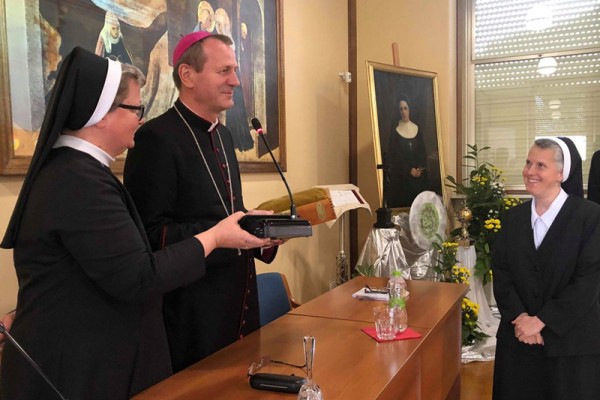 Sr. Angela Marie Mazzeo, CSFN, was elected on July 9 as the superior general for the Sisters of the Holy Family of Nazareth (CSFN) by 42 delegates who are gathered presently in Rome for the Congregation's XXV General Chapter.
"It is very humbling to be entrusted with the role of superior general for the Congregation," Sister Angela Marie said. "I know that the fulfillment of this role is only possible through God's grace and the gifts of the Holy Spirit. Therefore, I am most grateful to all those who have and are praying for me and all the members of the newly elected general administration."
Born in Philadelphia in 1966, Sr. Angela Marie graduated from Archbishop Ryan High School, Philadelphia, in 1984. After earning her bachelor's degree in pharmacy from Temple University, she entered the Sisters of the Holy Family of Nazareth in 1992. Her home parish is St. Christopher Church in Philadelphia. Sr. Angela Marie began her ministry at Nazareth Hospital in Philadelphia where she served for over 15 years as a staff pharmacist, pharmacy supervisor, and, eventually, director of pharmacy. She also received a master's degree in business administration from Villanova University. She has served as a councilor for the Congregation's General Administration in Rome since July 23, 2010.
Other sisters who were elected to serve in the new General Administration are Sr. Alina Furczyk, the general assistant, Krakow, Poland; Sr. Maria Fe Mata, general councilor, Bohol, Philippines; Sr. Lucyna Fr?czek, the general treasurer and councilor, New South Wales, Australia; Sr. Speranza Grzebielec, general councilor, Nazareth, Israel; and Sr. Amabilis Sikora, the general secretary and councilor, Warsaw, Poland.
"As Sisters of the Holy Family of Nazareth, we have united our prayers and support with our sister delegates as they elected Sr. Angela Marie Mazzeo and our new General Administration," said Sr. Mary Ellen Gemmell, CSFN, provincial secretary for our U.S. province. "We see the beautiful mix of cultures, backgrounds, experiences, language abilities and international views in the newly elected General Administration that will help us during the next nine years."
The newly elected General Administration's term begins immediately and will continue through 2028.
The General Chapter began on June 30. The election of the new General Administration was held July 9-11. The delegates will continue to convene in Rome through July 21.
The Sisters of the Holy Family of Nazareth hold chapter meetings at the General Administration headquarters in Rome every four to five years with representatives from CSFN provinces throughout the world attending. The purpose of these meetings is to discuss issues impacting the Congregation as a whole, to vote on policies, and to elect new leadership.