Jesus is my pal now: Sr. Barbara Frances' Bible class ministry
July 23, 2019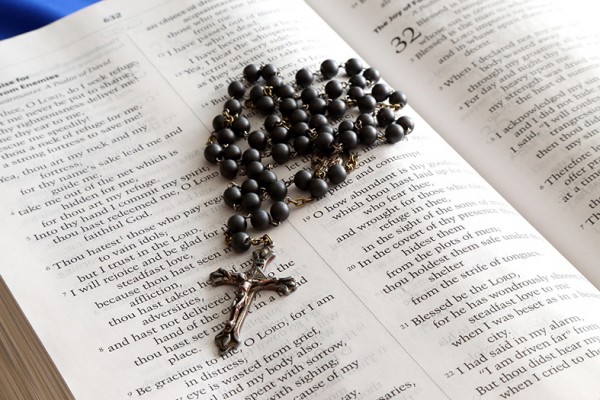 Sr. Barbara Frances Samp, CSFN, has taught a Bible class at Jesus the Good Shepherd Convent in Grand Prairie, TX since 2006, inspiring her students to deepen their love for Scripture and for Jesus. What began with only eight adults at the convent now has grown into a class with 27 regular members, many of whom have returned year after year.
Hidalia Myers, who has studied with Sr. Barbara for five years, bubbled with excitement when she began describing the class. "It is really, really great," she said. "When Sr. Barbara talks, she brings the Bible to life. You can visualize what she is saying. I love it."
That enthusiasm also is shared by Judyth Antahades, who has taken the class for six years. "Sr. Barbara makes the Bible so exciting," she said. "You can ask anything and she knows the answer. Her mind blows me away."
Like many of the students enrolled in the class, Judyth has developed a much deeper understanding of the Bible. "The Bible is like art," she said. "You don't just look at a piece of art one time and understand it. The Bible is like that."
Catholics, like Hidalia and Judyth, who received their religious education before the Second Vatican Council did not grow up studying the Bible. The "easy access to Sacred Scripture" that Pope Paul VI wrote about in "Dei Verbum" in 1965 had not yet become a part of Catholic teachings. Scripture was to be read and interpreted by clergy, not the laity.
For Hidalia's husband, who was raised in a Protestant tradition, things were different. He did have opportunities to study the Bible growing up, she explained. "He knows his stuff," she said. "Now, [after taking Sr. Barbara's classes] I am at the point where I know what he is talking about. If he says a name [from the Bible], I know who it is." He also helps her with the homework, which Hidalia says is something he really enjoys doing.
For Zelinda Johnson, who has taken the class for three years and is an Associate of the Holy Family, studying with Sr. Barbara has been life changing. "Sr. Barbara opened up a whole new world for me," she said. Like Hidalia, Zelinda says Sr. Barbara brings the Scriptures to life for her.
"She is probably the best scholar I've ever heard," Zelinda said.
Zelinda learned about Sr. Barbara's class after a silent retreat at Nazareth Retreat Center, adjacent to the convent in Grand Prairie, TX. "I first found the convent [and retreat center] in 2014 when I Googled 'Catholic retreat centers,'" she explained. Searching for a place of solace during a challenging time, Zelinda originally planned only to stay on retreat for the weekend, but ended up staying for five days, eventually coming back to become an Associate of the Holy Family and to take Sr. Barbara's classes.
These classes along with her time as an associate have helped Zelinda to look at things from more of a spiritual point of view. She says she has been introduced to "a whole new spiritual realm of the living world."
But there is more to the class than the serious business of spiritual growth and Scripture studies. There is also a lot of fun. As each year's session comes to an end, the students have a Jeopardy-style game, which according to Judyth, can get quite competitive. "We get into it," she said. "It's so much fun." And if things get too wild, Sr. Barbara has a bell to ring, a gift from Judyth. "I gave her a bell so she can ring it when she wants to get our attention," Judyth said.
With each class session, each homework assignment, each round of year-end games, and each ring of the bell, Sr. Barbara guides her students to a deeper encounter and a more profound relationship with Jesus, giving them a reward beyond anything they expected. Judyth, perhaps, describes the results best, when she said, "Jesus is my pal now."
* * *
Sr. Barbara Frances entered the Sisters of the Holy Family of Nazareth in 1948. She earned a bachelor's degree in music education and master's degree in secondary education from Southern Methodist University in Dallas. She also holds a master's degree in library science from North Texas University, Denton, TX. Originally from Chicago, she ministered in education for 45 years in schools in Illinois and Texas.
To read Sr. Barbara Frances' reflection on her ministry, please visit Ambassador for Christ on our website.