July 31: Wednesday Reflection
July 31, 2019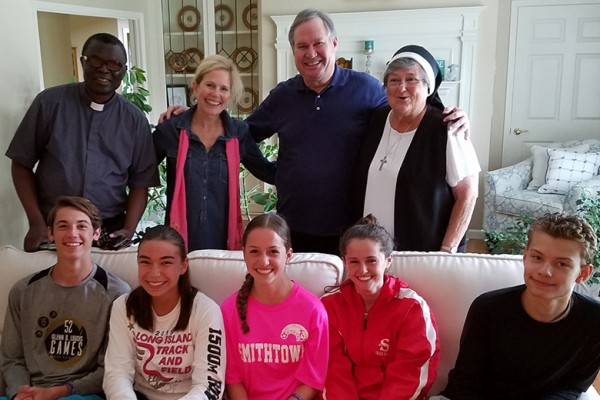 Dear Friends,
This past weekend's readings shared with us the themes of praying, of asking and of being hospitable. These were some of the topics we discussed during the leadership retreat held for the new youth leaders at Saints Philip and James Parish (SSPJ) in St. James, NY. Each of these students is striving to be a better leader in our parish community. Prayer is especially important to them during this time.
With delight, these young people welcomed our guest speaker, author Gail Lowney Alofsin, showing her our famous SSPJ hospitality. The students asked questions and were open to receiving solutions for the projects they were planning. They truly lived out the Gospel message.
As the retreat ended, I asked the young people who attended to share some of their thoughts with you. Let me share with you a few of their comments:
"The retreat was an enlightening experience for me and the other youth leaders which helped us gain both confidence and a desire to serve those in need. Sister Theresita and Father Tom allowed us to develop a connection with God with the three days we were in the rectory and the summer time camp. We utmost believe that with determination and passion we can rebuild youth group into a thriving force in the community." --Anthony
"The three-day youth leader retreat held by Sister T, Father Tom and Gail Lowney Alofsin was truly an eye-opener. They provided prayers, guidance, ways to explore our faith, ways to improve our mental being, and so much more. The retreat most importantly, besides from leadership, taught me teamwork. Discussing plans for the youth group and working as a team (whether it be for pizza competitions or helping the vacation bible school kids) truly allowed me to realize how well we all work together and how amazing we can make the youth group next year. We also watched movies, heard a speaker, and were privileged to hear about Sister T's life of service which I found truly inspiring." --Erin
"This week I attended SSPJ Youth Leadership training. Not only did I have the opportunity to work with inspirational people, like Father Tom and Sister T, to strengthen my relationship with God, but I also learned several tips on how to lead by faith. The first day we focused on self-improvement and working to shape a positive and complaint-free mindset. The second day we focused on leadership strategies and had an amazing presentation done by Gail Alofsin. The third day was focused on service and we got to help out with VBS and Pick-A-Star. Overall, I feel that this experience has made me even more excited and ready to be a youth leader this year." --Hailey
"My time with Father Tom and Sister T during the Youth Leadership Retreat was nothing but amazing and special. I had a great time connecting with my fellow youth leaders and God, and I can't wait to share my new knowledge that I gained while on the retreat."-- Liam
Well there you have it -- words of hope from some of our future leaders. For more thoughts and pictures check out Saints Philip and James Parish's August 4 bulletin available on their website at sspj.org/bulletins.
Hope you find a personal challenge in these young people's thoughts, as each of us is called to stretch and grow. That is all God is asking and you can do it in your own style. This week, think about your leadership style. Is it prayerful, hospitable, trusting? Whatever your style, remember you are wonderfully made!
May joy be your companion this week,
Sister Theresita
Pictured with the future student leaders are, left to right, Father Patrick Osei-Poku, Gail Lowney Alofsin, Father Tom Haggerty, and Sister Theresita.