Congratulations to our 2019 Jubilarians
August 21, 2019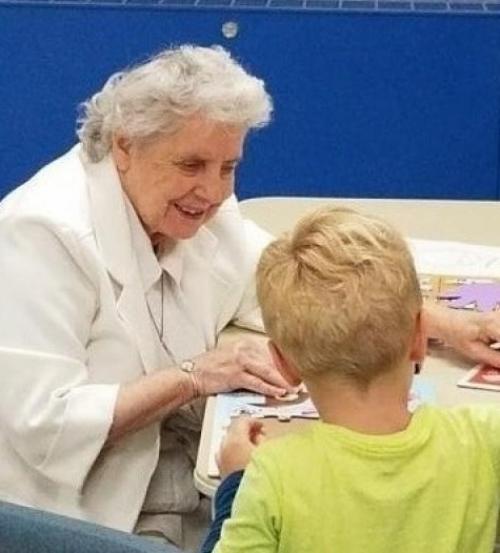 Sr. Florence Klaniecki
Diamond Jubilee – 75 years
Entered November 21, 1944
In a 2016 "Mission Moment" audio recording, Sr. Florence (formerly Sr. Eugene) credits the younger sisters in her community with helping her earn her PhD at the University of Pittsburgh. When ministry obligations would take her out-of-state, the younger sisters would sit in on her classes and get her assignments. In the 1970's, Sr. Florence completed her degree with a thesis on "Developmental Growth Patterns of Young Children in Processing Syllables and Phonemes in Spoken Nonsense Words." The paper reflects only a portion of the great love for education she has had throughout her religious life. With nearly a half-decade ministering in education, Sr. Florence has inspired countless students to be life-long learners, as she continually enriched her personal education with studies in languages, nature, science, and astronomy.
In addition to her time as a teacher, principal, director, and dean in Pennsylvania, Ohio, and Michigan, she also has served in leadership for the former St. Joseph Province in Pittsburgh and was the Pittsburgh diocesan educational consultant.
Though she left education ministry in 1996, her kindness and compassion for others continued as a chaplain serving elderly residents at HCR ManorCare in Pittsburgh prior to her retirement in 2002.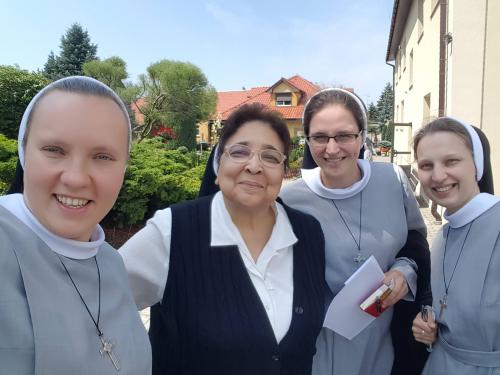 Sr. Angela Cresswell
Golden Jubilee – 50 years
Entered September 8, 1969
Sr. Angela first sensed a call to religious life as a 12-year old when a Sister of Mercy suggested she should be a nun. But, it was Sr. Robert LaRochester, CSFN, several years later who was most instrumental in Sr. Angela's decision to answer God's call (Sr. Robert is now a Carmelite nun in Maryland, known as Sr. Barbara Jean, and remains a mentor to Sr. Angela). "She emphasized from the earliest days to place and keep Jesus as number one in my life," Sr. Angela explains. "I entered Nazareth in 1969, a time of exodus for many religious, and [Sr. Robert] wanted me to come for the right reason."
With a PhD in Second Language Acquisition/Instructional Technology, Sr. Angela serves as an assistant professor at Holy Family University (HFU) and as the director of HFU's Family Center, both in Philadelphia. She also is a Spanish instructor at Nazareth Academy High School in Philadelphia.
"Reflecting on my relationship with our Lord over the past 50 years, I am aware and surprised at how it has changed," she says. "I am conscious of a difference in how I listen and speak to him."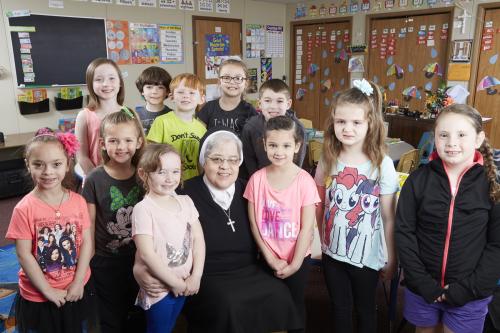 Sr. Evelyn Marita Figueroa
Golden Jubilee – 50 years
Entered September 8, 1969
Among the students at Alpha House in Philadelphia, she is known as Sr. Evy, an empathetic religious education and Spanish teacher with a contagious smile. For almost 25 years, Sr. Evy has inspired the school's preschool and kindergarten students and their families to grow not only academically, but also spiritually.
"In educating the child, I have found that in many instances one must minister to the family, as well," she says. "There have been occasions… especially in my present ministry, where parents have returned to the faith because of the discussions [they] had with their children [about] the daily religion classes."
Originally from Puerto Rico, Sr. Evy was inspired to enter religious life by her teachers and by her mother who instilled in her the love of her faith. Though, when she announced she wanted to be a sister, her mother objected. Her principal Sr. Inez Jankowska, CSFN, and her teacher Sr. Rita Partyka, CSFN, helped ease her mother's fears. Soon her parents were like family to the CSFNs serving in Puerto Rico, cooking meals for the sisters and helping them find their way around the island.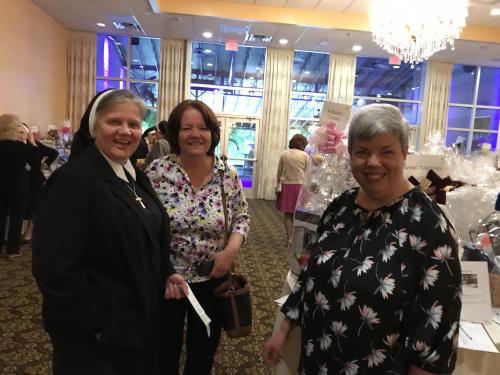 Sr. Carol Mockus
Golden Jubilee – 50 years
Entered September 8, 1969
For Sr. Carol Mockus, the desire to develop a spiritual life through adoration of the Blessed Sacrament inspired her to enter religious life. But, it was the spirituality of simplicity and family life that drew her to the Sisters of the Holy Family of Nazareth.
Religious life for her continues to be the story of a growing relationship with Jesus and spreading the kingdom of God's love. Inspired by C.S. Lewis' words, "Next to the Blessed Sacrament itself, your neighbor is the holiest object presented to your senses," Sr. Carol finds joy in the ordinary experiences of her vocation in community with her sisters, in her ministries and in her growing spirituality.
"This commitment made 50 years ago is a continuous journey that invites me to keep on pressing on every day," she says.
Over the last three decades, Sr. Carol has served in development, first for the Immaculate Conception Province, then later for the merged Holy Family Province. She currently ministers as the philanthropic gift advisor for the province's development office where she uses her gifts to nurture long-term relationships with friends of Nazareth and relates to all God's people.