Many blessings in Philly
September 12, 2019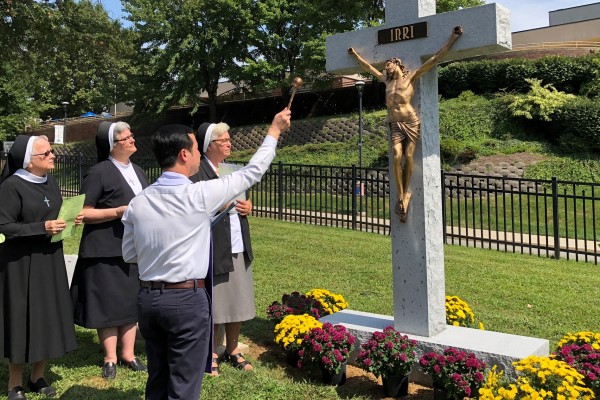 On August 31 at Jesus of Nazareth Convent (Mount Nazareth) in Philadelphia, we welcomed our new superior general Sr. Angela Marie Mazzeo. During Mass celebrated by Fr. Joseph Huy Bui, a special blessing for Sr. Angela Marie was offered: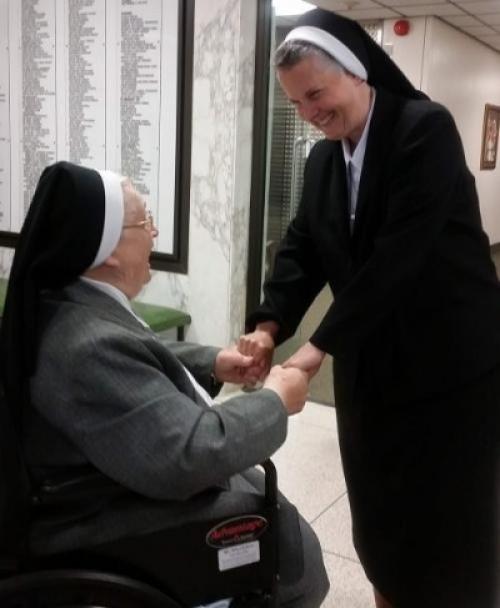 Sister Angela Marie, may the courage and peace of Christ Jesus be with you on your Servant-Leadership Journey….

May the Gift of Leadership awaken in you as a Vocation, and keep you mindful of the Providence that calls you to serve….

May your work be infused with passion and creativity and have the wisdom to balance compassion and challenge…

May integrity of soul be your first ideal, the source that will guide and bless your work….

Loving God, bless Sister Angela Marie as she assumes her Servant-Leadership Role in the Congregation of the Sisters of the Holy Family of Nazareth. Guide her in her work, fill her with patience and love, and let Your Spirit of Wisdom and Understanding be with her and fill her heart with Joy and Peace. We ask this prayer through Jesus Christ, Your Son, in the love of the Holy Spirit, one God for ever and ever…

Let us go forth to live and serve and love. Go forth, filled with a joyous heart. Go forth, always living in hope. Go forth sharing, witnessing and living the Good News that we know and see in Christ Jesus…
Fr. Joseph also blessed the newly renovated infirmary on the second floor of Mount Nazareth, home to some of our retired sisters. The renovation includes a private dining area for the sisters, giving the elderly sisters ample space to enjoy views of nature from the windows. The nurses' station has been relocated and both hallways have been upgraded. New furniture was also brought in for the dining room and community room. Floral pictures and uplifting messages now adorn the walls.
The day of blessings continued with the consecration of a new granite and bronze crucifix which replaces the worn wood-framed crucifix in the Sisters of the Holy Family of Nazareth's cemetery near Holy Family University and Nazareth Academy High School. The wood frame on the previous crucifix had become worn.