New partners in mission
September 12, 2019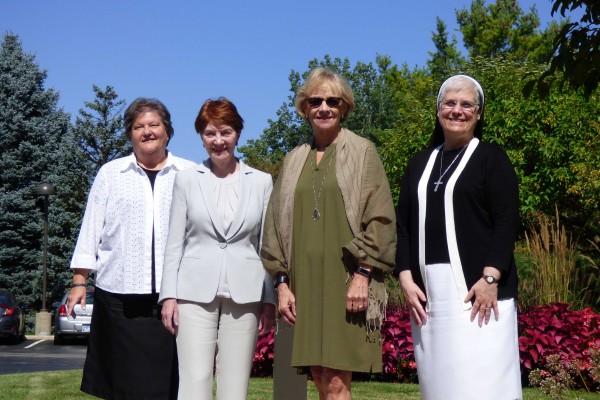 When the five U.S. provinces of the Sisters of the Holy Family of Nazareth (CSFN) merged in 2007, our sisters also formed CSFN Mission & Ministry, Inc. (MMI), a non-profit corporation whose purpose is to oversee our sponsored ministries in the U.S. Since MMI's inception, the board of directors has envisioned partnering with highly-qualified, lay professionals who are dedicated to the Nazareth mission to assist in leading MMI into the future. On July 1, this vision became a reality when MMI welcomed Margaret G. McDermott and Loretta M. Hennessey to the board.
"The MMI board in conjunction with our provincial council believes it is time for this momentous transition," says Sr. Loretta Theresa Felici, MMI president. "Both Margaret and Loretta have longstanding personal as well as ministerial relationships with the Sisters of the Holy Family of Nazareth. Their professional reputations along with their ongoing service to our sponsored ministries and support of our mission make them ideal candidates for this role."
Margaret's career in healthcare spans over four decades and includes a number of executive-level positions at Chicago area healthcare organizations. In 2013, she retired as chief executive officer and executive vice-president of Presence Saints Mary and Elizabeth Medical Center (now AMITA Health Saints Mary and Elizabeth Medical Center). She has provided her professional support to the five founding congregations of Presence Health, in addition to becoming the special assistant to the president and CEO for sponsorship. She has extensive experience serving on various nonprofit boards, committees, and advisory councils.
Loretta, a seasoned financial services professional and former senior banking executive with over 30 years of experience, has a track record of successfully creating, managing, and leading a range of businesses, product line, and risk management functions in large financial services firms. She interacts regularly with boards of directors and senior executives. Loretta has created and manages two private financial advisory companies. She is a Trustee Emerita of the Holy Family University Board of Trustees and formerly served as a member of the Investment Advisory Committee of the Sisters of the Holy Family Nazareth's Holy Family Province.
"It is indeed an honor to be taking up this responsibility as a newly appointed lay MMI board member," says Loretta. "I am very much looking forward to working with Sr. Loretta Theresa, Sr. Danielle and the other board members [and] continuing to grow, strengthen and support the CSFN U.S. sponsored ministries. The work of the Congregation and their contribution to society and the Church is needed more than ever."
Margaret and Loretta join MMI board members and newly elected officers Sr. Danielle Jacob, board chair; Sr. Janice Fulmer, vice-chair; Sr. Loretta Theresa Felici, president; Sr. Maryann McKeogh, treasurer; Sr. Kathleen Ann Stadler, secretary; Sr. Sally Marie Kiepura, director; and Sr. Marie Kielanowicz, director.
The sponsored ministries affiliated with MMI are Holy Family University, Nazareth Academy Grade School, Nazareth Academy High School in Philadelphia; Holy Family Institute and its affiliates, The Community at Holy Family Manor, and Nazareth Family Foundation in Pittsburgh; and, St. Leonard's Home in Hollidaysburg, PA. We also co-sponsor CHRISTUS Health in Texas and Sisters Place and The City of God Foundation in Pittsburgh. Villa Immaculate House of Prayer in Riverhead, NY and Nazareth Retreat Center in Grand Prairie, TX are also among our sponsored ministries.
Please join us in prayerful support as we welcome Margaret and Loretta.
Pictured left to right: Sr. Danielle Jacob, CSFN, MMI board chair; Loretta Hennessey, MMI board member; Margaret McDermott, MMI board member; Sr. Loretta Theresa Felici, CSFN, MMI president.